CLICK ON THE ABOVE LINK FOR YOUR FULL DAILY AUTO NEWS DIGEST!
CLOSING KEY AUTO STOCK PRICES:
DDAF
$87.04 +$1.83
FCA
$10.03 +$0.04
GM
$36.09 +$0.86
F
$14.97 +0.12
———————————————————————-
3 PM US CENTRAL TIME PRICE FOR OIL FUTURES:
Daily W.T.I. crude oil futures rose +$2.32 to 100.16 per barrel at 3 PM central time.
———————————————————————-
AM AUTOMOTIVE NEWS TODAY URL:

 http://www.autonews.com/article/20140207/VIDEO/302079958/first-shift-sales-just-a-cold-snap?cciid=email-autonews-firstshift&r=0007B9475689B4T
PM AUTOMOTIVE NEWS TODAY URL:

http://www.autonews.com/article/20140207/VIDEO/302079959/autonews-now-sales-strategies-and-spiffs?cciid=email-autonews-annow&r=0007B9475689B4T 
———————————————————————-
———————————————————————-
This Day in Automotive History
| | |
| --- | --- |
| 2/7/1958:  | Dutch DAF 600 automatic transmission car introduced |
———————————————————————-
February 6, 2014 at 5:51 pm
Chrysler CEO: Brand needs to be 'relevant'
David Shepardson
Detroit News Washington
Chicago — Chrysler brand CEO Al Gardner said he's focused on launching a new mid-size 2015 200 this year and said the brand could add future models.
Chrysler has three current vehicles — the Town & Country minivan, the 200 and the larger 300. Last year, Chrysler brand U.S. sales were down 2 percent to 302,000, while overall Chrysler Group U.S. sales jumped 9 percent to 1.8 million.
"The reality is Chrysler brand needs to be relevant and relevant is not necessarily playing in midsize, large car and minivan (only)," Gardner said on the sidelines of the Chicago auto show referring to the three products. "Are there opportunities outside of that? There are always opportunities. (Future product) has to sit on the showroom floor and it cannot compete with Dodge, Jeep and Ram."
Fiat Chrysler Automobiles NV has "four brands in the showroom. I'm not going to build a Chrysler SUV," Gardner said, adding that his top priority is the launch of the 200 sedan. "I'm Chrysler focused 100 percent. I've got sales targets and share targets and profit targets I've got to hit — and in simple terms, it's going to keep me busy."
Gardner said the two-minute Chrysler 200 Super Bowl ad
 featuring Bob Dylan has been a success.
The ad has been seen on YouTube more than 4.5 million times. "We like to do this every year with something new and exciting," Gardner said, referencing prior Super Bowl ads
 that featured Clint Eastwood and Eminem.
Chrysler will start building the 200 in Sterling Heights in the second quarter
 of 2014 and will start selling them at the end of the quarter. Chrysler has taken some flack for part of the ad that suggested some products should be made elsewhere. Chrysler first showed the 200 to its dealers two years ago in Las Vegas and it got a standing ovation. Chrysler is launching a special edition 300S and a 30th anniversary special edition Town & Country.
"When it's made here, it's made with the one thing you can't import from anywhere else. American Ride," Dylan says in the ad. "So let Germany brew your beer, let Switzerland make your watch, let Asia assemble your phone. We will build your car."
Gardner acknowledged the criticism.
The Chrysler 200 is designed "to stand for something and mean something to people and it appears that it did mean something. … We're an American built car company and we want to build that product."
Dylan was extensively involved in writing the script — and Chrysler knew it might get some criticism. "At the end of the day, we knew exactly what we had," Gardner said. "We spent a long time talking about the pros and cons."
Chrysler modeled and designed the 200 off the Ford Fusion — which it considered the best midsize domestic car.
The new 200 will have a nine-speed transmission vs the six-speed in the Fusion and the Chrysler 200 all-wheel-drive system won't result in any loss of fuel economy.
It's priced on Fusion and contented on Fusion but it takes on the others (Camry and Accord)… We know we have to go head to head and beat them all," Gardner said.
Gardner says it has learned lessons from Hyundai and Kia in launching their midsize cars. "If build a great product and you market the heck out of it and you price it right, then not only does it launch you vehicle, but it relaunches your brand," Garnder said. "I give Hyundai and Kia a ton of credit because they built cars like the Sonata to the market that were ahead of their time."
Chrysler thinks it you give buyers "the value proposition they are looking for plus some" they will give you a chance.
The mid-size segment is growing and accounted for 2 million vehicles last year.
From The Detroit News: http://www.detroitnews.com/article/20140206/AUTO0101/302060142#ixzz2sfCAcW2K
———————————————————————-
Ferrari denies move from Italy to the Netherlands
February 7, 2014 12:29 CET
TURIN (Reuters) — Ferrari does not plan to move to the Netherlands, the company said today, denying Italian media reports.
"Ferrari has been based in Maranello [Italy] since 1947 and will remain there with its cars and its brand," the company said in a statement.
Ferrari's parent company Fiat Group said last month it would register the holding of its newly created Fiat Chrysler Automobiles group in the Netherlands and set its tax domicile in the UK.
Italian daily Il Giornale reported on Friday that the luxury carmaker would move its newly created merchandising company to the Netherlands or the UK.
—————————————————————–
Chrysler recalls 9,655 vans in North America for accelerator issue
2014 Ram ProMaster vans on dealer lots cannot be sold until fix made
February 7, 2014 – 11:55 am ET
DETROIT (Reuters) — Chrysler Group LLC said it is recalling an estimated 9,655 full-size vans in North America to replace a part that could lead to the accelerator pedal getting stuck in the wide open position.
About half the affected 2014 Ram ProMaster vans are still on dealer lots and cannot be sold until they are repaired. Owners will be notified of the recall, which will be done at no cost, Chrysler said in a statement today.
A spokesman for Chrysler, a unit of Fiat Chrysler Automobiles, said there were no reports of accidents or injuries relating to the issue.
Every Chrysler vehicle is equipped with a brake-throttle override system that allows the driver to stop the vehicle by applying the brake pedal to override any simultaneous accelerator input, Chrysler said.
The automaker will replace the pedal stop, or trim piece that surrounds the opening accommodating the accelerator pedal shaft.
The issue was discovered at a company test track, when a driver applied downward force at an angle and the pedal stuck in an open position, company spokesman Eric Mayne said.
Chrysler said it had shared its findings with Fiat due to the ProMaster's similarity to the Ducato van, though the Fiat vehicle has a different design. Fiat found no reports of pedal sticking in the Ducato, launched in 2006 and sold in more than 80 countries but not in the United States.
The affected part was already scheduled for replacement to improve the driving experience before the issue was discovered, Mayne said.
Of the affected vans, an estimated 7,935 are in the United States, 1,437 in Canada and 283 in Mexico, Mayne said.
—————————————————————–
(This is a joke, these guys are woefully under capitalized.  Chrysler just announced they will be coming out with hybrid and maybe full electric minivans in a couple of years.  When this happens these guys are out of business, if they even last that long.–Ed Meyer)
Emerald Auto says it's close to financing deal
Two and a half years after it unveiled plans to build a green van plant in Hazelwood, Emerald Automotive says it's now just weeks away from a deal that will make those plans happen.
The startup automaker plans to ask the Hazelwood City Council later this month for some technical changes to its $3 million city financing package, said Gary Marble, Emerald's local spokesman. If that happens, Marble said, Emerald plans to close on a funding deal with a "global auto manufacturer" that will allow it to move forward with production of its t-001 hybrid electric delivery van.
"It's still going to take a little time," Marble said. "But we've found a private financial partner we're working with closely."
Emerald, which is owned by a British clean-energy firm, first unveiled plans in 2011 to put a $170 million assembly plant in Hazelwood, employing 600 people building fuel-efficient delivery vans, mostly for European customers. Initially, it sought a green-auto loan from the U.S. Department of Energy for the bulk of its financing. But when that program became bogged down in red tape after the collapse of similarly funded solar panel-maker Solyndra, Emerald withdrew its application and began pursuing private investors. With little luck until, apparently, now.
Marble wouldn't name the company's new partner other than to say it's well-established in the auto industry and has a strong European presence.
A Hazelwood spokesman said he had no information on the project other than that Emerald would be seeking some minor changes to its city development agreement. Hazelwood issued a $3 million loan to the automaker in 2011, funded by a local economic development sales tax. Emerald also received $2 million in financing from the state-backed Missouri Technology Corp.
Marble said the tweaks to the Hazelwood deal mainly involve changing dates on performance benchmarks — like the number of jobs created — to account for delays in the project. But Emerald is seeking no more money and still must repay it on the same timetable.
"Basically this will account for the two years it took to find the money," he said. "But the due date did not change. We're still looking at 2018."
If all goes according to plan, Marble said, Emerald will release more details on Feb. 20, the day after Hazelwood's next City Council meeting.
Tim Logan is a business writer at the Post-Dispatch. Follow him on Twitter @tlwriter.
—————————————————————–
Renault-Nissan car sales rose 2% in 2013, boosted by China, U.S. growth
Staff and wire reports
Automotive News Europe
February 7, 2014 11:56 CET
PARIS — Renault and Nissan said their combined global vehicle sales rose 2 percent to 8.27 million vehicles last year, an all-time high for the alliance, propelled by record sales in China and the United States.
"Strong demand in the world's top markets more than offset anemic growth and declines elsewhere," said Renault-Nissan CEO Carlos Ghosn said in a statement. "We will always experience periods of regional instability, but we remain bullish: The auto industry is a long-term growth story."
Nissan was the main driver for the alliance's growth with global sales rising 3 percent to 5.1 million vehicles.
In China, Nissan sales increased by 17 percent to 1.27 million, giving the brand a market share of nearly 6 percent, the statement said. U.S. sales for Nissan and Infiniti grew by 9 percent to 1.25 million, resulting in an 8 percent market share.
Renault group, including the Dacia brand, sold 2.63 million units, up 3 percent from 2012. Sales in Europe rose 2.4 percent to 1.3 million in a market down 2 percent. Renault's European market share increased by 0.4 percentage points to 9.5 percent.
The alliance's 8.27 million global deliveries include sales of Russian subsidiary AvtoVAZ, which builds Lada cars. AVTOVAZ sold 534,911 vehicles globally, down 12 percent from 2012 amid the economic slowdown in Russia.
EV sales up 52%
Renault-Nissan said their combined electric vehicle sales jumped 52 percent to 66,809. Nissan Leaf sales rose 77 percent to 47,716, while sales of Renault's four electric vehicle models, the Kangoo Z.E., Fluence Z.E., Zoe and Twizy, grew 13 percent to 19,093.
Reuters contributed to this report
—————————————————————–
February 6, 2014 at 1:09 pm
Nissan shows diesel-Frontier truck
David Shepardson
Detroit News Washington Bureau
Nissan Frontier Diesel Runner (Nissan / Wieck)
Chicago — Nissan Motor Co. on Thursday showed off a concept diesel-powered version of its Frontier mid-size pickup at the Chicago Auto Show and said it will wait for feedback from customers before deciding whether to build it.
"It's a technical study. We're going to use social media — Facebook, Twitter, so forth and the blogosphere to find out what people are saying about this truck, 'Do they like it? Do they want it? Should we build it?" and we're going to let them decide for us, basically," said Fred Diaz, senior vice president for sales and marketing
 at Nissan's U.S. unit.
Last month, Diaz said the company was considering building a hybrid version of the next generation Frontier.
The demonstration Nissan Frontier Diesel Runner gets an estimated fuel economy increase of 35 percent over the current Frontier V6.
In August, Nissan announced it would sell a 5.0-liter turbo diesel V8 in the next-generation Titan full-size pickup, which will arrive in 2015.
"Frontier continues to be a huge success story for us, with more than 60,000 units sold in 2013," Diaz said. "Nissan has always valued the mid-size pickup segment, and with this technical study project, we are looking to explore what is possible for the next-generation Frontier."
This week, Fiat Chrysler Automobiles NV said its new 2014 Ram 1500 diesel pickup will earn a 28 miles-per-gallon highway rating, the best of any full-size half-ton pickup.
The 2013 Ram with a 3.6-liter Pentastar V-6 gasoline engine earned a 25 mpg highway rating.
The smaller pickup segment has been shrinking, although General Motors Co. announced last month it was re-entering the segment — a market that Ford Motor Co. and Fiat Chrysler Automobiles NV have both exited. GM also said it plans to sell a diesel version of its small Canyon and Colorado in the 2016 model year. The GM midsize trucks will go on sale this fall.
Sales in the segment fell 15 percent last year and are down by 75 percent over the last 15 years. Honda Motor Co. and Toyota Motor Corp. also both sell mid-size trucks.
From The Detroit News: http://www.detroitnews.com/article/20140206/AUTO0104/302060118#ixzz2sfD8qojv
———————————————————————-
(Regular readers know GM screwed up their brand new trucks that really aren't competitive with the existing F-150 & RAM.  Now we know GM has lost combined Chevy/GMC market share of at least 2 % since these all new trucks came out last summer.  Now GM is locked into a 7 year cycle for the basic chassis and body of this truck so one can see GM is in serious trouble here.  Pickups are the single largest profit generator for the Big-3.  It shows GM will continue to loose truck and total market share to everyone else in the US market.  in 10 years I expect GM will be below Ford and close to Chrysler in US market share.  Ford and Chrysler have basically held their own in uS market share while GM continues to free-fall down to their levels.–Ed Meyer)
GM sweetens February incentives to juice U.S. sales
Deep discounts on new pickups as share sags
The promotion features the deepest discounts that GM has offered so far on its redesigned 2014 Chevy Silverado and GMC Sierra pickups.Photo credit: REUTERS
Mike Colias
Automotive News
February 7, 2014 – 1:06 pm ET — 
UPDATED: 2/7/14 1:39 pm ET
DETROIT — Chevrolet and Buick-GMC are running a nearly month-long Presidents Day promotion for February, offering some of General Motors' biggest incentives in months asthe company tries to shake a recent sales slump.
The sales event began Tuesday and runs through Feb. 28, according to a summary sent to dealers. The brands are offering $500 to $2,000 cash on most models and have sweetened a lease pull-ahead deal, which will waive two months of payments up to $1,000 for lease customers.
The promotion also features the deepest discounts that GM has offered so far on its redesigned 2014 Chevy Silverado and GMC Sierra pickups, which were launched last summer.
All V-6 Silverado and Sierra models will be eligible for the same discounted prices the company offers to employees of its suppliers. Supplier pricing is the dealer invoice price, plus destination charge and a $150 program fee.
Chevy will advertise more than $7,000 off of a double cab V-6 All Star model.
GM's share of the full-sized pickup market has slipped since the introduction of the redesigned Silverado and Sierra last summer.
Some dealers have clamored for stronger incentives to fend off aggressive discounts from Ford and Ram.
Combined market share for the Silverado and Sierra has been 33 percent or lower in four of the last five months. Historically, GM's share has ranged from 35 to 40 percent.
GM spokesman Jim Cain declined to confirm details of the promotion but said that GM wants to raise awareness among consumers and dealers of its V-6 pickups, which he says are "packed with value and blow away anything we've done in the past."
Examples of Chevy's Presidents Day deals include a $2,000 cash discount on a 2014 Tahoe SUV and $500 off of a '14 Malibu sedan. The promotion can be combined with existing customer-cash offers.
During the fourth quarter, GM's incentive spending as a percentage of average transaction prices was about 5 percent higher than the industry average, according to a presentation that GM released Thursday detailing its fourth-quarter financial results.
But Cain said that for the past several months, GM's incentive spending rate has been lighter than that of its key rivals.
"When you have discipline and great new products, you can do these short-term tactical plays to drive traffic," Cain said.
GM's overall U.S. market share finished flat for 2013, at 17.9 percent. Chevy's slipped to 12.5 percent, from 12.8 percent. GM reiterated this week that it expects to post "modestly higher" market share this year.
You can reach Mike Colias at mcolias@crain.com.
—————————————————————–
Images of Detroit blight used on billboards by anti-union groups in Chattanooga
6:57 PM, February 6, 2014
An anti-UAW union message is visible Wednesday on a billboard for northbound motorists in Chattanooga, Tenn. A vote by workers to unionize the Chattanooga Volkswagen plant is scheduled for Feb. 12-14. The billboard misspells the word politician. / Tim Barber/Chattanooga Times Free Press
Detroit Free Press Business Writer
A group opposed to the UAW organizing effort at Volkswagen's Chattanooga, Tenn., plant is putting up billboards in the Chattanooga area. The Center for Worker Freedom is placing the billboards, which show a blighted Packard Plant with the wording 'Detroit. Brought to You by the UAW.' / Tim Barber/Chattanooga Times Free Press
Anti-union forces funded by anti-tax activist Grover Norquist are renting as many as 13 billboards in Chattanooga, Tenn., as Volkswagen workers prepare to vote next week to accept or reject representation by the UAW.
The rhetoric has moved from the plant floor to city streets.
The first of the billboards went up earlier this week. One shows the crumbling Packard Plant ruins that have been shuttered for 55 years. The copy reads: "Detroit. Brought to you by the UAW."
Another has a red X through the second word of United Auto Workers, with a crudely lettered Obama just beneath it. Beneath it in small print it reads: "The UAW spends millions to elect liberal politicans including Barack Obama." — workerfreedom.org. (Note: Politicians is misspelled on the billboard.)
The Center for Worker Freedom, which describes itself as a special project of Americans for Tax Reform — Norquist's flagship lobbying organization — is stepping up efforts "to warn the residents of Chattanooga about the terrible economic legacy and the left-wing political nature of the United Auto Workers," said Matt Patterson, its executive director.
The CWF website
 has postings such as "UAW wants your guns" and "VW workers denied voice again."
A UAW spokeswoman was not immediately available for comment.
The National Labor Relations Board will supervise the election, in which Volkswagen has chosen to remain neutral. Voting will begin Feb. 12 and continue through Feb. 14.
The automaker has expressed support for the UAW efforts to create a works council similar to the union representation VW has at its plants in Germany. Workers have been invited to attend information meetings in advance of the vote.
The UAW, which has seen its membership decline for years, has spent decades trying to organize plants of Asian and European automakers in the U.S. Those efforts failed, but unlike this case, Nissan, Honda and Toyota have resisted organizing campaigns.
Contact Alisa Priddle: 313-222-5394 orapriddle@freepress.com. Follow her on Twitter @AlisaPriddle.
———————————————————————-
GM earnings down 22% for 2013, but profit-sharing up to $7,500
9:04 PM, February 6, 2014
General Motors headquarters in the Renaissance Center in Detroit. / Getty Images
Detroit Free Press Business Writer
A recovering North American market propped up General Motors throughout 2013, but continued losses in Europe and smaller profits in Asia and South America caused its global profit
 to fall 22% for 2013 and fourth-quarter earnings to fall below Wall Street's expectations.
Worldwide, GM posted a $3.8-billion profit for all of 2013, but fourth-quarter net income rose 2% to $913 million or 67 cents per share. The average of analysts' estimates was for 87 cents per share.
The good news: A $7.5-billion operating profit in North America will translate to profit-sharing checks of up to $7,500 for GM's 48,500 UAW employees, an increase from $6,750 last year. GM shares, after sliding more than 3% in pre-market trading, recovered to close at $35.23, down a penny from Wednesday.
The bad news: Investors are impatient with the company's losses in Europe, where it hasn't made money since last century. They also are asking why profits aren't stronger in China, where GM sells more vehicles than any other country.
"We have more work to do, and our sense of urgency won't let up one bit," CEO Mary Barra said on a conference call with analysts and reporters. "Our plan remains the same: We need to operate profitably everywhere we sell vehicles."
GM's North American business, which accounted for 87% of its 2013 global operating profit, continues to subsidize the company's global strategy.
That likely won't change soon. In 2014, GM will enjoy a full year with the freshest full-size pickups on the market. Now it is beginning to ship the new SUVs — Chevrolet Tahoe, GMC Yukon and Cadillac Escalade — that are among GM's most profitable products.
In Europe, GM lost $844 million last year, down from $1.9 billion in 2012. Charges associated with the closure of GM's factory in Bochum, Germany, added to that loss in the fourth quarter and will continue to reduce earnings in the first quarter
 of 2014.
"Like a slightly used car with significant cosmetic damage but a working powertrain, GM posted a quarter that looks worse on the outside than on the inside," Barclays analyst Brian Johnson said in a note.
More troubling are shrinking profits in GM's International Operations, which reported pre-tax profit fell 69% to $208 million. In thefourth quarter
, GM made $400 million in China, which is included in the international operations, but its profit margin in China slipped to 7.6% from 9.1% a year earlier.
GM has decided to stop making cars in Australia. In southeast Asia, Japanese automakers are gaining sales and market share
 because a weaker yen makes Japanese-built vehicles more profitable when sold in export markets.
In South America, GM is hurting because "fundamentally the economy is shut down in Venezuela" and currency policy is presenting a problem in Argentina.
"There's weakness (overseas) driven by a number of factors," said Chief Financial Officer Chuck Stevens. "In some markets, it's foreign exchange. In other markets, it's pricing because of the weaker yen."
For the full year, GM's operating profit rose 8% to $8.6 billion. After factoring out several restructuring charges and tax increases — including the fourth-quarter withdrawal of Chevrolet from Europe — net income was down for the year.
The automaker still expects 2014 profits to rise slightly from last year as the North American market remains strong and it reaps even more profit from its redesigned pickups and large SUVs.
GM said revenue for the year rose 2% to $155.4 billion, while vehicle sales increased 4% to 9.7 million units. Its global market
 share for the year was 11.5%.
The company's U.S. market share was flat at 17.5% for the year, while edging up a tenth of a percentage point to 17.2% for the fourth quarter.
One bright spot was that GM's pension obligations of $71.5 billion were 90% funded at the end of the year, an improvement of $7 billion from a year earlier.
Globally, GM's pensions are 80% funded, an improvement of about $8 billion.
Contact Nathan Bomey: 313-223-4743 or nbomey@freepress.com. Follow him on Twitter @NathanBomey.
———————————————————————-
Tom Walsh: GM hits a bump as Barra takes the reins
11:16 PM, February 6, 2014
General Motors fell short of profit expectations in its first quarterly earnings report since Mary Barra took over as CEO three weeks ago. / AP Photo/Carlos Osorio
Detroit Free Press Business Columnist
Welcome to the hot seat, Mary Barra.
In General Motors' first quarterly earnings report since Barra took over as CEO three weeks ago, GM took a stumble Thursday morning, falling way short of profit expectations.
Barra, not surprisingly, took a glass-half-full approach in her first turn as GM head honcho during an earnings conference call with industry analysts and journalists.
"Through a lot of hard work, the GM team has made the business stronger than it was just one short year ago," she said Thursday at the start of her eight-minute opening remarks.
She ticked off a litany of good news from 2013: strong quality scores from JD Power & Associates and nice words from Consumer Reports about GM vehicles; the resumption of dividends for shareholders; a return to investment-grade credit quality, and a place in the Standard & Poor's 500 index.
Chevrolet, she added, won a slew of accolades for the new Impala, the new Corvette Stingray and Silverado pickup.
And the bad news?
Chuck Stevens, GM's new chief financial officer, got to deal with that.
The automaker reported a fourth-quarter profit of $913 million, or 57 cents a share, a smidge higher than last year but an embarrassing miss by Wall Street standards, falling way short of analysts' expectations of about 88 cents a share.
GM's worldwide revenue rose 3% to $40.5 billion, but that was about $300 million shy of what Wall Street forecasters had predicted — so GM's stock price dropped 50 cents at the start of trading Thursday, before moving higher in line with the overall market. It closed pretty much flat, at $35.22, down just two pennies.
In South America, where the economies are particularly rocky in Venezuela and Argentina, "the risk profile over the past several weeks has risen considerably," Stevens said on the call.
Europe, he added, continues to be a drag: GM is still taking write-offs for restructuring there and prices show little sign of improvement. And GM's other international operations, aside from China, have struggled of late.
When analysts directly asked Barra some loaded questions about perceived trouble spots for GM, she stayed resolutely confident and upbeat.
In response to one pointed query about GM's pickup market share lagging and whether that might prompt price discounting, she noted that the Silverado "has gotten great reviews … I have a lot of confidence in these (truck) products, and we will still maintain our pricing discipline."
Asked what she saw as the biggest challenges or threats facing GM, Barra described herself as a "glass-half-full person" and responded by talking about opportunities rather than threats.
"I think we've got a strong product cadence … We need to continue to build our brands … I think we all know that's a multi-year activity. You don't recover in one year or two from a historical perspective" in the passenger car segment, she said.
"My goal," she added, "is every segment we choose to compete in around the world, we're going to win."
It's hard to argue with that as a goal. But it's also Alan Mulally's goal at Ford and Sergio Marchionne's goal at Fiat Chrysler and Dieter Zetsche's goal at Daimler.
We can't judge Barra as CEO yet, of course. She's barely out of the starting gate.
And if GM stumbled just as she hopped in the saddle and took the reins, well, at least that's out of the way.
Somehow I sense that she's grounded enough to handle a few bumps, as she indicated after telling an interviewer from Fortune magazine that she had never asked for a raise or a promotion in her career.
"What I always say is, 'Do every job you're in like you're going to do it for the rest of your life and demonstrate that ownership of it.' You deliver and produce results and you do it with high integrity and teamwork, and it'll all work out. You don't have to ask for different jobs, and you don't have to ask for raises," she told Fortune.
Barra has no shortage of challenges as she settles into the hot seat at GM, but she does have $28 billion of automotive cash and only $7 billion of debt. Not a bad cushion for starters.
Contact Tom Walsh: twalsh@freepress.com
———————————————————————-
2015 Chevrolet City Express Van Bows at Chicago
GM Announces CNG option for 2015 Chevrolet Silverado HD Trucks
By 
Erick Ayapana
 | February 05, 2014 
General Motors 
first unveiled the 2015 Chevrolet City Express
 van last spring, and now it will make its public debut at this week's 2014 Chicago Auto Show before reaching showrooms this fall. Chevrolet also announced that the 2015 Silverado 2500HD and 3500HD will have the capability to run on compressed natural gas (CNG) through the available bi-fuel option.
If the 2015 City Express van looks familiar, that's because it's essentially a rebadged Nissan NV200. 
Chevy isn't making any significant changes to the mechanical bits, which means the Express van will be powered by the same 
2.0-liter I-4
 that produces 131 hp and 139 lb-ft and is mated to a continuous variable transmission that routes power to the front wheels.With a cargo capacity of 122.7 cubic feet, the 2-passenger City Express is built to haul the goods. The rear cargo area is accessible via split opening rear doors or the dual sliding side doors. Customers will be able to customize the cargo area with storage solutions and shelves. The 2015 City Express will be offered in LS and LT trim, with standard items that include six air bags, ABS, and power windows. Available features include navigation and remote keyless entry (standard on LT). Pricing will be announced in the future.
CNG Capability for 2015 Chevrolet Silverado HDs
Chevrolet is also expanding its CNG capabilities to the 
2015 Chevrolet Silverado 2500HD and 3500HD.
 The trucks are powered by the 6.0-liter V-8 that is slightly modified for bi-fuel duty. When running on gas, the engine's output remains at 360 hp and 380 lb-ft, with power dropping to 301 hp and 333 lb-ft while running on CNG. And with the secondary CNG fuel tank (mounted at the forward end of the bed), Chevrolet says the Silverado bi-fuel truck will have a 
range of up to 650 miles.
 GM says owners can save more than $2000 annually if they run their truck on CNG 75 percent of the time. The figure is based on the current price for a gallon of CNG, which GM says is 62 percent cheaper than gasoline. The CNG option goes on sale this July and is offered with all cab configurations and models with single rear wheels. 
The complete system is priced at $11,000.
Source: Chevrolet
Read more: http://wot.motortrend.com/1402_2015_chevrolet_city_express_van_bows_at_chicago.html#ixzz2sf2QzQvn
———————————————————————-
BMW to debut i subrand during Winter Olympics
BMW of North America is the official mobility partner of the United States Olympic Committee.
Diana T. Kurylko
Automotive News
February 7, 2014 – 3:56 pm ET
BMW plans to debut its i subbrand during the opening ceremony of the Winter Olympics tonight.
The first of three i television commercials will feature the i8 plug-in hybrid super car, BMW said today in a statement.
The commercial called "Hello Future," uses the theme and words from "2001: A Space Odyssey," to position the i8 as a futuristic vehicle. The 1964 book envisioned what the future in 2001.
Two other commercials will also air. "Sighting" has people who have seen the i8 trying to describe it. "SHHH" features a boy who takes a joyride in the i3 battery-electric compact to impress a girl. He wins the girl but his father tracks him through the BMW i remote application.
BMW is also debuting digital shorts at NBCOlympics.com featuring the two i cars.
BMW of North America is the official mobility partner of the United States Olympic Committee.
The i cars go on sale in the United States starting in April.
You can reach Diana T. Kurylko at dkurylko@crain.com. — Follow Diana on 
—————————————————————–
Who has the right pickup strategy?
The Detroit Three's pickup trucks have traditionally differed from each other about as much as Sprint Cup cars do. They have evolved in lockstep to the point that even relatively minor innovations — the "man step" in the Ford F-150 or coil rear springs in the Dodge Ram — have drawn attention.
That's now changing, as the Detroit automakers pursue dramatically different strategies. Ram is introducing a diesel V-6. General Motors is re-entering the midsize pickup segment with the Chevrolet Colorado and the GMC Canyon. And Ford, as has been reported, well, everywhere, is building the next F-150 out of aluminum.
The biggest reason for this flurry of changes are the new Corporate Average Fuel Economy and greenhouse gas regulations for both 2012 to 2016 and 2017 to 2025. It's not just that the standards get tougher, which they do. It's that they're devilishly complicated. Whereas the old (1978 to 2011) CAFE standards had two major categories — cars and light trucks — the new standards also factor in size. Bigger vehicles face lower standards, smaller ones tougher standards. The difference is substantial: A truck the size of the old Ford Ranger, for instance, would need to achieve 50 mpg in 2025, versus about 32 mpg for something as big as an F-150 SuperCrew with a 6.5-foot bed. (Note these are CAFE numbers, which are higher than EPA fuel estimates).
Every single vehicle faces its own standard, calculated from its wheelbase and track. All these results are then combined in a sales- and footprint weighted average for an automaker's entire fleet. Simple, right? (If you're still confused, here's a helpful 406-page explanation from the Federal Register.)
The variability of the new standards means there's no single, prescribed way to meet them. "It's a dance, really," says Stephanie Brinley, senior analyst at IHS. The only constants for the Detroit automakers are that they want to continue selling trucks and meet the new requirements. "None of them have the option of saying, 'No, we'll just skip a year or two," Brinley says.
---
2015 Chevrolet Colorado (and GMC Canyon)
The thinking: The midsize trucks are much lighter (less than 4000 pounds for a rear-wheel-drive model) and feature four- and six-cylinder power. Although General Motors hasn't yet released fuel economy estimates, we can expect them to be significantly better than those of the full-size Chevrolet Silverado and GMC Sierra. A diesel V-6 will arrive next year and extend that advantage. All this likely costs General Motors less than Ford is spending on the aluminum F-150—the Colorado was already being sold in other parts of the world and shares a lot of parts with the Silverado.
The caveats: Midsize trucks traditionally don't get much better fuel mileage than their full-size brethren. The 2012 GMC Canyon with rear-wheel-drive, 3.7-liter I-5 and four-speed automatic was rated 17/23 mpg, compared with 16/23 for the '14 Sierra with RWD, a 5.3-liter V-8 and six-speed automatic, for example. What's more, smaller trucks, as indicated, will face higher standards because the new requirements adjust inversely according to a vehicle's size. Of course, the new Colorado is not all that small—the extended-cab Colorado and Canyon are slightly longer than the regular cab Silverado and Sierra. What about the shorter, regular cab Colorado and Canyon, you ask? There won't be any. GM will instead offer to remove the rear-seats. That ensures a bigger footprint/lower fuel economy target.
The bigger question is whether enough people will buy the new trucks to make a difference in GM's fleet fuel economy or to its bottom line. Midsize trucks totaled fewer than 250,000 sales in 2013 — a mere speck on the map compared with the nearly two million large pickups sold in the same period.
---
2014 Ram 1500
The thinking: Whereas diesels have been a tough sell in cars in the United States, neither Ram nor anyone else has had trouble convincing heavy-duty pickup truck buyers of the benefits of an oil-burner. The first light-truck diesel, the Ram 1500 Ecodiesel, carries many of those heavy-duty benefits. Its 3.0-liter V-6 has 420 lb-ft of torque and yet achieves better fuel economy than the Ram powered by a gas V-6, which gets 20 mpg combined.
The Caveats: Under the new rules, the federal government regulates not only fuel economy, but greenhouse gas emissions. Diesel fuel emits some 15 percent more C02 per gallon than gasoline. "The higher CO2 per gallon figure offsets some of the mile-per-gallon benefits," says John Kasab, chief engineer at Ricardo.
---
2015 Ford F-150
The thinking: A no-brainer from a CAFE perspective. The F-150 is, by far, Ford's best-selling vehicle and one of its biggest, so any fuel economy improvements to the vehicle count heavily toward the automaker's overall number. And the beauty of the aluminum body is that unlike a special model or powertrain, every F-150 Ford sells will pack the fuel economy benefits. The cascading effect of the new body — such as the ability to use smaller engines that are themselves lighter — should yield even more improvements.
The caveats: The cost. My colleague Todd Lassa addresses this topic thoroughly in his column for our April issue but basically: aluminum is expensive, assembling vehicles out aluminum is expensive, and repairing vehicles made out of aluminum is expensive. And although it's true that trucks enjoy a healthy profit margin, "That margin is not something anyone wants to give away," Brinley says. That's particularly true for Ford, which, lacking a thriving luxury brand, doesn't have many other cash cow vehicles.
---
Everyone else:
It's worth noting that although the new standards present challenges for large pickups, they may make things even more challenging for automakers who don't sell large pickups in large quantities. The big pickups dramatically increase the fleet footprint for the Detroit automakers, which, in turn, lowers their respective fuel economy targets. For comparison, the largest truck Volkswagen sells, the Touareg, has a footprint four feet smaller than that of GM's new midsize trucks. We can thus be assured we'll see more attempts from import manufacturers to crack the large-truck segment.
Read more: http://www.automobilemag.com/features/columns/1402-moment-of-zenlea-who-has-the-right-pickup-strategy/#ixzz2sf1Db8rh
———————————————————————-
Our spy photographers got a closer look at the upcoming high-performance variant of the 2015 Ford Mustang. Compared to the last time we spotted one of these prototypes — which is expected to be called the GT350 — this test car wears far less camouflage, revealing more details about its innards.
Given that the standard 2015 Ford Mustang has made its public debut, we're not surprised by the general shape of this test car. However, the quartet of large exhausts fitted beneath its rear bumper do stand out compared to the twin exhausts of a normal Mustang GT. It's also clear that the car packs enough power to need serious taming, as the rear wheels wear fat 295/35/R19 rubber.
Out front, the camouflage tape does allow us to seem a prominent cooling air vent in the hood, hinting that this car may use forced induction, just as did the outgoing Ford Shelby GT500. We're told, however, that the GT500's massive 662-hp, supercharged 6.2-liter V-8 won't fit in the new 2015 Ford Mustang. Reports suggested that we could expect a naturally aspirated 5.0-liter V-8, but these photos hint that engine could even be supercharged. Alternatively, given that Ford now offers a turbocharged 2.3-liter inline-four engine in the new Mustang, we could see a high-powered turbo model for the GT350.
Speaking of which, the name GT350 has been freed up because Shelby American ceased selling its own Mustang upgrade package by the same name. As a result, the new high-performance Mustang is expected to be called the GT350.
The 2015 Ford Mustang will offer buyers a choice of three engines, a 3.7-liter V-6 rated for 300 hp, an evolution of the 5.0-liter V-8 good for at least 420 hp, and a new turbocharged 2.3-liter inline-four EcoBoost engine making at least 305 hp.
When the standard 2015 Ford Mustang launched, chief engineer Dave Pericak wouldn't confirm to us whether or not a GT350 model was coming. While he didn't deny the possibility of a go-fast Mustang, he told us at the time, "Let's celebrate this one [the standard car] for now." Don't expect to see this GT350 debut until much later this year — Ford will likely want to delay its introduction until the hype around the standard 2015 Ford Mustang has diminished.
Read more: http://www.automobilemag.com/features/news/1402-2015-ford-mustang-gt350-spied-again/#ixzz2sf1W5OmT
———————————————————————-
February 7, 2014 at 8:06 am
Daniel Howes
Detroit Big 3 get groove back, but can they keep it?
Mary Barra, on the job roughly three weeks, detailed General Motors Co.'s earnings Thursday and it all sounded so normal.
Not because she's the first woman to lead a global automaker. Not because the new CEO
 sounded to be reading from a prepared script laced with words like "team" and "products" and "execute." And not because GM's $32 billion in adjusted earnings over 16 consecutive profitable quarters is so, well, expected that mentioning it borders on boring.
It all sounded so normal because Detroit's automakers, for what feels like the first time in anyone's memory, are settling into a groove also known as running their businesses the right way. And by "right way," I mean in a manner that business people outside the old, thoroughly discredited Detroit bubble would recognize.
Detroit's break-even points are sharply below their sales volume. They generate cash. They manage debt. Their profit margins are two or three times what they were before the crash. They use good times to reduce pension liabilities. They pay dividends to investors. They regularly fund capital investment, and they're once again taken seriously on Wall Street.
They don't pay union members not to work. They don't support more brands than they can afford to market. They don't easily succumb to competitive pressure to boost incentives to defend market share, especially if doing so would be too damaging to profitability (and credibility).
And they have options, a credit to financial muscle that would have been unimaginable five years ago. Detroit's automakers closed last year with combined net income of $13.8 billion ($7.2 billion of which is attributable to Ford alone) and total liquidity in cash, marketable securities and credit lines
 of nearly $105 billion.
All of it, and more, combines to feed a new virtuous circle until recently better understood in Munich, South Korea and Japan's Aichi Prefecture than here in the Motor City: Invest in developing new cars and trucks to generate sales and profits so you can invest in developing new cars and trucks more quickly to generate more sales and profits.
Bottom line: With GM's record $7.5 billion in adjusted North American earnings now in the books, Detroit's automakers are demonstrating that they can consistently make real money in their own backyards and export the know-how to markets around the world.
Ford Motor Co., the financial darling whose leaders managed to avoid taking a federal bailout, recorded one of its best years in its 110-year history. The Chrysler unit of Fiat Chrysler Automobiles NV is the cash generator for the transatlantic group, now poised to consolidate further under a single corporate umbrella.
Better times certainly are here for the Detroit Three. Less certain, as all three companies transition to either new leadership or new corporate structures, is whether they can manage the prosperity, maintain their new-found discipline and avoid the traps that historically ensnared Old Detroit predecessors.
"We clearly have a lot of work ahead to make our regions solidly and consistently profitable," GM's Barra said, describing what she called "a multi-year journey" to get there. "We are confident we have the team
, the products and the processes to get it done."
Lord knows all three automakers are in stronger positions to manage the transition, to anticipate the global economic challenges featured regionally, to use their solid profitability in their home markets to drive restructuring in critical markets around the world (as Barra pointedly referenced in her remarks).
The trick is in the doing. The history of Detroit's three automakers is marked by a recurring detours into mediocrity and complacency, usually just about the time the hourly profit-sharing checks clear, the proxy statements detail fat executive bonuses and sales volumes peak.
Barra's mentor, Dan Akerson, vowed complacency creep will not happen, but he won't be around to ensure it won't. Ford's brass, from Executive Chairman Bill Ford Jr. and CEO Alan Mulally to COO Mark Fields and Americas President Joe Hinrichs, say it won't happen.
And FCA CEO Sergio Marchionne this week said Detroit has "asserted in unmistakable terms that the American auto industry is back" — a claim Marchionne himself likely would concede means nothing without more solid results to back it up.
That's the trouble with the road back to respectability. It keeps winding because the destination is never reached; it's always around the next corner or two.
daniel.howes@detroitnews.com
(313) 222-2106
Daniel Howes' column runs Tuesdays, Thursdays and Fridays.
From The Detroit News: http://www.detroitnews.com/article/20140207/AUTO01/302070033#ixzz2sfDOFKby
———————————————————————-
(Since the days of Ronald Reagan no US President has done more than complain about Japan manipulating their Yen.  When it comes to action, they have all failed.–Ed Meyer) 
February 6, 2014 at 2:53 pm
Ford steps up criticism of currency manipulation
David Shepardson
Detroit News Washington Bureau
Chicago – Ford Motor Co. stepped up its campaign to convince the Obama administration to include provisions to block currency manipulation in a proposed 12-nation free trade agreement.
Joe Hinrichs, Ford's president of the Americas, said in a speech to the Economic Club of Chicago, the proposed Trans-Pacific Partnership must address currency manipulation.
"The real elephant in the room right now is currency manipulation, and we need to make sure that it is not ignored. It represents the major trade barrier of the 21st century — and it must be addressed in any future U.S. trade agreements," Hinrichs said. "Countries like Japan have historically manipulated their currencies in order to gain unfair advantages in the global marketplace and protect their home markets."
Hinrichs cited studies that Japanese automakers are making billions of dollars in extra profits because of the fall in the value of the yen. Japan has denied it is currently manipulating its currency.
The U.S., Japan, Mexico, Canada and eight other nations have been negotiating a Trans-Pacific Partnership that would create a free trade zone accounting for 40 percent of the world's economy. Australia, Brunei, Chile, New Zealand, Malaysia, Peru, Singapore and Vietnam are also part of the talks. The Obama administration has refused to raise currency as an issue in the talks — arguing that other international forums like the G-20 are a better tool.
Detroit's Big Three automakers and many Michigan members of Congress have been pushing this issue.
From The Detroit News: http://www.detroitnews.com/article/20140206/AUTO0102/302060125#ixzz2sfDWh6Q0
———————————————————————-
Aston Martin says accelerator pedal recall to cost 1.5 million pounds
Production of part will be relocated to UK
February 7, 2014 08:53 CET
DETROIT (Reuters) — Aston Martin estimates that its expanded recall of accelerator pedals in 17,590 sports cars will result in a material added cost of 1.5 million pounds ($2.45 million), which matches a calculation the automaker made late last year.
The first recall for the problem was announced last May and was expanded in October and expanded again this week to include most of the sports cars built by Aston Martin since late 2007.
The British brand announced the expanded recall on Wednesday after discovering a Chinese sub-supplier was using counterfeit plastic material in the pedals, which may break, increasing the risk of a crash.
Aston Martin said in a statement this week that it determined the cost of the recall in late November 2013. The estimate does not include the potential cost of moving production of the pedal.
Aston Martin spokeswoman Sarah Calam said the automaker plans to shift production of the pedal arms from China to the UK "as soon as possible" in 2014.
The cost of the recall is of great interest because Aston Martin has struggled to fund the development of a range of new vehicles while rivals like Bentley, owned by Volkswagen Group, and Rolls-Royce, owned by BMW Group, have the ability to draw on the resources of their parent firms.
Aston Martin's owners include Italian private equity fund Investindustrial, Kuwait-based Adeem Investment and Prime Wagon. Daimler AG also has stake of less than 5 percent in the automaker.
Of the Aston Martin cars affected in the recall, 7,271 are in Europe and 5,001 in the United States, Calam said. The company sells cars in 41 countries.
The cars are being recalled from model years 2008 through 2014, according to documents from the U.S. National Highway Traffic Safety Administration.
Aston Martin found that Shenzhen Kexiang Mould Tool Co. Ltd., a Chinese subcontractor that molds the affected accelerator pedal arms, was using counterfeit plastic material supplied by Synthetic Plastic Raw Material Co. Ltd. of Dongguan, according to documents filed with the NHTSA.
Calam said there had been no reports of accidents or injuries related to the issue, adding that 22 failed parts had been reported.
———————————————————————-
 PAUL MCVEIGH
Bernhard may finally get Mercedes' top job
February 7, 2014 06:01 CET
Daimler CEO Dieter Zetsche was upbeat at the automaker's annual press conference in Stuttgart on Thursday despite the fallout from the departure of long-serving executive Andreas Renschler.
"Changes offer new chances. We have personnel with great potential," Zetsche said.
Wolfgang Bernhard may be the first executive to get a new chance after many setbacks in his career. The departure of his rival, Renschler, may open the door for Bernhard to run the Mercedes-Benz car brand.
Bernhard was named to the post in 2004 following his stint as Chrysler's cost-killing chief operating officer. However, the appointment was rescinded by Daimler's board when he caused an internal furor by calling Mercedes a "restructuring case."
Bernhard went off to run Volkswagen brand and many think he laid the foundations for VW's current success by drastically shaving production costs in VW's bloated German factories during his three-year stint in Wolfsburg.
Zetsche, 60, has been running Mercedes brand for eight years in addition to his Daimler CEO responsibilities, a dual role that many financial analysts would like to see end to allow a single executive to concentrate on raising Mercedes' profitability to the same level as rivals BMW and Audi.
Mercedes employs 40 percent more workers to sell 20 percent fewer cars compared with BMW, according to ISI Global. Bernstein Research analyst Max Warburton says Daimler shares would soar 10 percent on the day Bernhard took the job.
One more plus for Bernhard, 53, is that powerful Daimler union boss Erich Klemm, who blocked Bernhard's advancement, retires in a few months.
You can reach Paul McVeigh at pmcveigh@crain.com.
———————————————————————-
PSA board restates support for Dongfeng talks
February 6, 2014 21:27 CET — UPDATED: Feb. 7 13:30 CET – adds French minister's comments
PARIS (Bloomberg) — PSA/Peugeot-Citroen's supervisory board is sticking to a 3 billion-euro ($4.1 billion) stock-sale plan it's negotiating with France and Dongfeng Motor Corp. amid criticism by some investors and members of the controlling family.
The board "expresses its full support for the project presented by the management and has authorized it to pursue the talks with the aim to get approval from the board during its meeting on Feb. 18," PSA said in a statement on Thursday. "The company can't guarantee that the project will be successfully completed."
PSA said last month that it is in talks on selling stakes to Chinese partner Dongfeng and France's government in an initial step of the 3 billion-euro capital increase to fund a reorganization.
French Industry Minister Arnaud Montebourg said that any participation by France in a PSA capital increase would be intended to secure balanced ownership of the company, as Dongfeng is a Chinese company controlled by the government.
"We want to create a giant with global reach," and "an alliance with Dongfeng will create a relationship of equals while at the same time preserving decision center and R&D outlets in Europe," he told reporters on Friday.
Strategy clash
Board Chairman Thierry Peugeot and his cousin, Robert Peugeot, have clashed over the strategy, with Thierry favoring selling all the new stock on the market without investments by Dongfeng or France, according to people familiar with the situation.
A French minority shareholders' association, ADAM, said separately in a letter to Thierry Peugeot this week that Dongfeng, the French state and the Paris-based carmaker's founding family may be considered as acting together in their proposal, potentially triggering a mandatory offer to buy out the other stockholders.
PSA said in January that it's targeting a formal deal with Wuhan-based Dongfeng and France by Feb. 19, when the French manufacturer reports full-year earnings.
The company hasn't specified the size of the potential stakes Dongfeng and the French state may buy, though it said they may acquire stock first and then further shares would be sold to current investors under "the preferred scenario."
Other alternatives are being considered, PSA said.
Discussions center on selling 14 percent holdings apiece to Dongfeng and France, which would each pay at least 750 million euros, according to people familiar with the matter. The Peugeot founding family would also retain 14 percent, down from their current stake of 25.5 percent of the equity and 38.1 percent of the voting rights, the people said.
The boards of the family's two holding companies, EPF and FFP, signed off last week on the two-step capital increase, according to people familiar with the matter.
PSA has burned through more than 4 billion euros in cash in the last two years as deliveries fell amid the European auto-market drop.
The new funding would be equal to 75 percent of PSA's market value and follows a 2012 share sale to raise 1 billion euros in which General Motors Co. bought a 7 percent stake that it later sold.
PSA probably lost money for the second year in a row in 2013, according to analyst estimates, as industrywide car sales in Europe, the company's main market, reached a two-decade low.
———————————————————————-
Tata Motors names Mistry interim chief as Slym successor sought
Mistry will run strategy and operations at Tata as well as overseeing new product design and engineering review meetings.
February 7, 2014 11:57 CET
MUMBAI (Bloomberg) — Tata Motors said Chairman Cyrus Mistry, 45, will lead the company while it seeks a permanent replacement for Karl Slym, the automaker's managing director, who fell to his death in Thailand last month.
Tata Motors will be led by a committee chaired by Mistry that will oversee strategy and operations, Tata said in a statement today. Mistry also will run new product design and engineering review meetings.
The board expects to appoint a new managing director in due course, it said.
Slym, who headed Tata Motors except for the Jaguar Land Rover unit, led efforts to revive profitability at the Indian business, which has lost market share.
Tata Motors, which relies on Jaguar Land Rover for the bulk of its profits, had sales of Tata-branded passenger vehicles in India slump 37 percent in the nine months through December, the biggest decline among 17 automakers reporting sales to the Society of Indian Automobile Manufacturers. Sales of the company's Nano microcar deliveries plunged 72 percent.
Slym, an English national, died January 26 in a fall from the 22nd floor of the Shangri-La hotel in Bangkok. He was 51.
———————————————————————-
Macan may push Porsche's '14 U.S. sales to near 50,000
The Porsche Macan will reach U.S. dealers in May or June.
Amy Wilson
Automotive News Europe
February 7, 2014 06:01 CET
NEW ORLEANS — U.S. Porsche sales, with an expected lift from the Macan compact crossover due at dealerships in late spring, are likely to approach 50,000 units in 2014.
They could surpass 50,000, a sales goal Porsche had set for 2018, but executives aren't ready to talk about that possibility.
"That kind of growth is not our objective this year by any means," said Joe Lawrence, who became COO of Porsche Cars North America in September. "Also, it's a ramp-up year [for the Macan]. One thing we needed to stress with the dealers is to keep expectations in check in terms of just how many we'll be able to deliver this year."
U.S. dealers should start seeing the vehicles in May or June. Porsche executives say full-year volume for the Macan should approximate that of the Cayenne, Porsche's large crossover, at similar points in their life cycles.
In 2013, Porsche sold 18,507 Cayennes in the U.S. Half of that for the Macan this year would push brand sales above 50,000 if volumes of Porsche's other nameplates stay the same. Porsche sold 42,323 vehicles in 2013, a 21 percent increase from 2012.
Lawrence said he expects another sales gain this year but declined to give a volume target.
Dealers at the make meeting here said they're excited to get the Macan and look forward to another great year for Porsche. Tight inventory is their main concern.
"The biggest issue is that it's hard to get cars for loaners," said Mike Sullivan, who owns Pacific Porsche in Torrance, California, and is a member of the Porsche Board of Regents. Because inventory is scarce, Sullivan said, dealers struggle to fill their service fleets and satisfy retail customer demand. He said: "That's a pretty good problem."
Dealers asked for more inventory for service fleets. Lawrence said Porsche will work with the dealer council to address the issue. Porsche wants feedback on balancing allocation of the Cayenne to the service loaner program vs. retail customers.
Porsche aims to improve allocation for the Cayenne this year, Lawrence said. The vehicle has been in short supply. The Cayenne ended 2013 with a 20-day supply, according to the Automotive News Data Center.
Said Lawrence: "We hope to get closer to [demand] this year."
You can reach Amy Wilson at awilson@crain.com.
———————————————————————-
Mercedes to decrease sales incentives as demand outstrips supply
February 7, 2014 – 8:24 am ET
FRANKFURT — Daimler CEO Dieter Zetsche said the automaker plans to lower sales incentives on Mercedes-Benz vehicles and raise prices on some models as demand outstrips supply.
Zetsche told analysts today he expects "pricing to improve significantly" this year, and that in every market he visits he receives pleas from dealers to provide more of the automaker's compact cars such as the new CLA.
Fourth-quarter deliveries for Mercedes's compact vehicles climbed 44 percent, while demand for the revamped flagship S class surged 43 percent. Daimler forecast on Thursday that 2014 operating profit from ongoing operations will greatly exceed the 7.9 billion euros ($10.7 billion) achieved last year on demand for the new GLA compact SUV and redesigned C-class sedan.
Zetsche has vowed to regain the top spot in luxury-car sales by the end of the decade after losing it to BMW in 2005 and ceding second place to Audi in 2011. Mercedes plans to introduce 30 models through 2020, with a sports car among the dozen vehicles that have no predecessor, Zetsche said on Thursday.
Daimler's stock has gained 44 percent in the last year, valuing the manufacturer at 68.1 billion euros.
Mercedes-Benz next month will roll out a new version of the mid-sized C-class sedan, its best-selling model, and the GLA, an all-new compact SUV. The manufacturer is also starting to offer an electric version of the B-class compact in the U.S., and will debut a coupe variant of the S class. The brand's deliveries rose 15 percent in January.
Smart turnaround
Zetsche is also working to turn around the unprofitable Smart brand by teaming up with Renault to develop new models. Smart this year will present a new version of its iconic two-seater and revive a four-seat model that will share its underpinnings with the French automaker's Twingo hatchback.
"Costs are going down while content and performance are significantly improving," Zetsche said of Smart, adding that he expects the marque to be profitable in the future.
The Mercedes-Benz Cars division, which includes Smart, has a goal of cutting costs by 2 billion euros in the two years through 2014. The unit saved 800 million euros last year, beating targets, Daimler said on Thursday. The division's fourth-quarter operating margin widened to 7.5 percent from 5.3 percent a year earlier.
———————————————————————-
American Axle cites Q4 gains in non-GM business
From staff and wire reports
February 7, 2014 – 9:54 am ET
DETROIT — American Axle & Manufacturing Holdings Inc., citing a 37 percent gain in its non-General Motors business, posted net income of $30 million during the fourth quarter.
The powertrain components supplier, which typically generates about 75 percent of its revenue from its former parent company GM, today said its non-GM business grew 37 percent to $280 million during the quarter.
The company's $30 million profit during the quarter compares with net income of $320 million during the same quarter last year, but the 2012 results included a one-time tax gain of $340 million.
American Axle said total revenue improved 13 percent to $830 million during the quarter.
For the year, the company said it posted net income of $94.5 million on revenue of $3.2 billion vs. 2012 net income of $368 million on revenue of $2.9 billion, which included the one-time tax gain.
"In 2013, AAM's financial performance was highlighted by sales growth that outpaced the industry and profitability that solidly rebounded versus our 2012 performance," CEO David C. Dauch said in a statement.
Philip Nussel and Reuters contributed to this report.
———————————————————————-
Rockefeller warns automakers, suppliers to cut risk of in-car mobile technology
Key U.S. senator 'unhappy' and 'very nervous' about driver distraction
Sen. John Rockefeller: "I'm very nervous, not just about deaths but about close-to-death injuries. All for the sake of outdoing each other and making more money."Photo credit: BLOOMBERG
Jeff Plungis
February 6, 2014 – 5:19 pm ET — UPDATED: 2/7/14 10:52 am ET – adds detail
WASHINGTON (Bloomberg) — An influential U.S. senator warned automakers and technology executives that he'll propose regulating in-car use of mobile phones to Internet-connected entertainment systems unless they do more to reduce driver distractions.
Senate Commerce Committee Chairman Jay Rockefeller, D-W.Va., told officials of companies including General Motors, Toyota Motor Corp., Google Inc., Samsung Electronics Co., AT&T Inc. and Apple Inc. to move faster on implementing standards for in-car technology use.
Rockefeller, who is not seeking re-election this year after five terms in the Senate, convened an unusual all-day forum in Washington on Thursday to discuss the topic.
"Why is it so important for kids to drive around and update their Facebook statuses?" Rockefeller said. "For teenagers, it's a way of being cool. For those of you who sell cars, it's a way of you being cool and making a lot of money from that. How many people have died? How many people have almost died?"
Automakers have promoted voice-based messaging as a safer alternative to taking hands off the steering wheel to place a call and talk on a handheld phone.
About 9 million infotainment systems will be shipped this year in cars sold worldwide, with that number projected to rise to more than 62 million by 2018, according to a March report by London-based ABI Research.
While maps, music and news features can make driving better, too much focus has been applied on providing drivers with the features and connectivity they get on smartphones, Rockefeller said.
"I'm very unhappy," the 76-year-old lawmaker said. "I'm very nervous, not just about deaths but about close-to-death injuries. All for the sake of outdoing each other and making more money."
General Motors, the largest U.S. automaker, has had driving-distraction guidelines for more than 15 years, since introducing its OnStar system, said Michael Robinson, the company's vice president of sustainability and global regulatory affairs.
In-car communications and mobile phones are providing an enormous safety benefit through automatic crash notifications and fast calls to 911, he said.
"The connectivity you're worried about for social media is the very same that enables us to save thousands of lives every year," Robinson said.
Other executives said consumers are going to use mobile phones regardless of the wishes of lawmakers or companies.
Asking whether people need to update Facebook in their cars is the wrong question, said Robert Strassburger, vice president of vehicle safety and harmonization at the Alliance of Automobile Manufacturers, a Washington-based trade group.
"We live in a society where we demand to be connected, 24/7, 365 days a year," Strassburger said. "We have to design systems so people will want to tether their devices to their vehicles."
———————————————————————-
Editorial: Deficits falling, job market improving. What's not to like?
Here is a really important sentence from a Congressional Budget Office report on the state of the U.S. economy:
"The federal budget deficit has fallen sharply during the past few years, and it is on a path to decline further this year and next year."
That's actually the first sentence of the 175-page report, but you wouldn't know it by many of the headlines you've read in the newspaper (including this one) or seen on television referring to the report.
Or how about these sentences:
"After a frustratingly slow recovery from the severe recession of 2007 to 2009, the economy will grow at a solid pace in 2014, and for the next few years."
"As a share of GDP, revenues are projected to increase from 16.7 percent in 2013 to 17.5 percent in 2014, which is about the average for the past 40 years."
"The Congressional Budget Office (CBO) projects that, under an assumption that current laws governing federal taxes and spending remain in place, economic activity will expand at a solid pace in 2014 and the next few years."
"CBO projects that real GDP will grow notably faster over the next few years than it has over the past few years."
"During the next few years, increases in the overall demand for goods and services will encourage firms to increase their output and to augment their workforces in order to do so."
"CBO expects that conditions in the labor market will continue to improve during the next several years."
More jobs. Lower deficits. More growth.
That's what the CBO's February outlook calls for. Read in full, minus long-term concerns tied primarily to the nation's aging population, the report offers much more good news than bad, particularly as it relates to the Affordable Care Act.
But that's not what many Americans saw on Twitter or Facebook or television yesterday when they glanced at quick headlines from their Republican elected leaders or even many mainstream media outlets.
No, they saw something along the lines of the completely inaccurate headline still on the Fox News website: "Obamacare expected to lead to loss of 2.5 million jobs, report says."
No, the report doesn't say that. Not at all.
It says that some workers will choose to work fewer hours in order to maintain their eligibility for subsidies so they can qualify for health care insurance, which many of them don't have now. Those total hours, when added together, would be equivalent to 2.5 million full-time jobs by 2024, the report says.
Let's say you're a single mom working at Wal-Mart. Maybe, if you're really lucky, you make just more than 138 percent of the federal poverty level for a family your size, which is a measly $21,404 per year. If you cut a few hours out of your week to drop below that level (and if Missouri expands its Medicaid eligibility), you qualify for health care coverage that right now you likely don't have. And you get more time caring for your child. Wal-Mart didn't cut your job. You made a financial decision that you didn't have the freedom to make before the Affordable Care Act became law.
Here's how Pulitzer Prize-winning business columnist Michael Hiltzik of the Los Angeles Timesexplained it:
"The CBO projects that the act will reduce the supply of labor, not the availability of jobs. There's a big difference. In fact, it suggests that aggregate demand for labor (that is, the number of jobs) will increase, not decrease; but that many workers or would-be workers will be prompted by the ACA to leave the labor force, many of them voluntarily."
In the rush to judgment, too many news stories (including some in the Post-Dispatch) cast the report as a win for the GOP because the report could "provide a new political weapon" for Republicans in the 2014 elections. Well, sure, if they lie about Obamacare in television ads. But responsible news outlets shouldn't help them. We can't speak for Fox News.
In fact, the CBO report shows in many ways that despite Republican attempts at sabotage, the Affordable Care Act is working.
More people are gaining access to insurance. That access to insurance is giving them the freedom to make job choices that better suit their lives. It gives them money to spend and thus grows the economy. The CBO further says that the Affordable Care Act is costing less than it previously predicted. It lowers its cost estimates on premiums. It suggests the goal of adding 7 million people to the health insurance rolls could still happen in the first year, but will probably fall a little short.
It predicts that enrollments in the health exchanges will spike considerably in 2015 and 2016 and that states such as Missouri, which have not yet expanded Medicaid as called for in the ACA, will slowly do so because the financial incentives are so strong.
If you actually read the CBO's report on the economy, and its specific relationship to the Affordable Care Act, the conclusions are obvious:
The economy is improving.
The ACA is working.
It's the reporting that is broken.
———————————————————————-
11 Things You Didn't Know About Costco
The Huffington Post  | by  Todd Van Luling
Posted: 02/07/2014 9:38 am EST Updated: 02/07/2014 10:59 am EST
Is it truly the "anti-Walmart?"
Despite the sagging economy and challenges to the industry, Costco pays its hourly workers an average of $20.89 an hour, not including overtime (vs. the minimum wage of $7.25 an hour). By comparison, Walmart said its average wage for full-time employees in the U.S. is $12.67 an hour, according to a letter it sent in April to activist Ralph Nader. Eighty-eight percent of Costco employees have company-sponsored health insurance; Walmart says that "more than half" of its do. Costco workers with coverage pay premiums that amount to less than 10 percent of the overall cost of their plans. It treats its employees well in the belief that a happier work environment will result in a more profitable company. "I just think people need to make a living wage with health benefits," says Jelinek. "It also puts more money back into the economy and creates a healthier country. It's really that simple."
Sol Price, the founder of FedMart.
Mr. Price started FedMart in San Diego during the early 1950s and would also end up creating another warehouse store called Price Club in 1976, which Costco would eventually buy.
Costco has had a history of conflict with some famous brands. A shortlist:
———————————————————————-
Next Time Someone Argues For 'Trickle-Down' Economics, Show Them This
The Huffington Post  | by  Kathleen Miles
Posted: 02/06/2014 9:35 am EST
Posted: 02/06/2014 9:35 am EST Updated: 02/06/2014 3:59 pm EST
Conservatives 
like to say
 that "a rising tide lifts all boats." In other words, if an executive makes $20 million a year, his income will eventually trickle down into the rest of the economy and ultimately benefit poor people.
But that theory hasn't exactly proven true. The highest-earning 20 percent of Americans have been 
making more and more
 over the past 40 years. Yet no other boats have risen; in fact, they're sinking. Over the same 40 years, the lowest-earning 60 percent of Americans have been making less and less.
Imagine the lines below as tides. As you can see, one is rising, while the others are falling (and one is stagnant):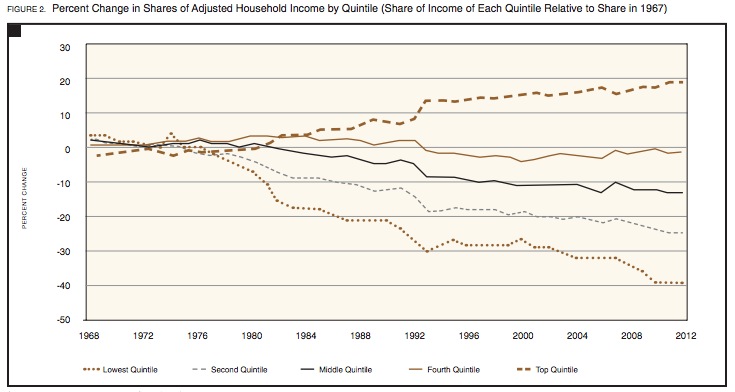 The chart comes from the Stanford Center on Poverty and Inequality's recently released 
2014 report
. The researchers looked at rising poverty and inequality in the U.S., particularly since the 2007-2008 recession.
An 
OECD study
 in 2013 found that the U.S. had the highest income inequality in the developed world. Out of all nations, only Chile, Mexico and Turkey had higher levels of income inequality, according to the study.
So what does this all mean in actual dollars? It means that 
more than half
 of U.S. wage earners made less than $30,000 in 2012, which is not far above the $27,010
federal poverty line
 for a family of five. Meanwhile, the top 10 percent of earners took
more than half
 of the country's total income in 2012.
In other words, a rising tide has lifted a few big boats and washed the rest aside.
———————————————————————-
Lee Enterprises fiscal 1Q net income falls 18 pct
February 06, 2014 12:20 pm
Lee Enterprises says its fiscal first-quarter net income fell 18 percent as revenue slipped.
For the quarter ended Dec. 29, the Davenport, Iowa-based publisher earned $11.9 million, or 22 cents per share. That compared with $14.6 million, or 28 cents per share, in the same quarter a year earlier.
Excluding special charges related to discontinued operations, the company says it earned $12.8 million, or 24 cents per share, up from an adjusted $10.5 million, or 20 cents per share, a year earlier.
Operating revenue fell 4 percent to $177.4 million from $184.7 million, as print and digital advertising and marketing services revenue declined 5 percent to $122.4 million.
But digital revenue, including advertising, marketing services, subscriptions and digital businesses, increased 13 percent to $21.6 million.
—————————————————————–
———————————————————————-
FROM THE CHRYCO WEB UNDERGROUND:
———————————————————————-
Posted on February 7th, 2014 • by David Zatz
Jeepster has been ruled out mainly because Chrysler CEO Sergio Marchionne himself told Automotive News'Larry Vellequette that it would not be used. Latitude is a stuttery name that makes little sense, and is already used for a trim line; while Laredo carries that American-West flare, it too is used as a trim line name.
Perhaps the reality is that Chrysler will simply use the moderately popular Compass name, already established in large parts of the world, and apply it to the new car. The other Compass is due to be dropped within roughly the same time-frame. That will leave a C-sized compact Jeep, which could retain the Patriot name.
This revised rendering is based on the numerous spy shots of the "BU."
———————————————————————-
Posted on February 7th, 2014 • by David Zatz
MotorWeek, "television's original automotive magazine," has given top honors to the 2014 Jeep Cherokee(Best Small Utility) and Ram 1500 (Best Pickup Truck) in its annual list of Drivers' Choice Awards. The Ramwas awarded for its second year in a row.  (Motor Trend Magazine also gave the "Truck of the year" ward to RAM for an unprecedented 2 years in a row.–Ed Meyer)
MotorWeek host and creator John Davis said, "I was really impressed with the Ram 1500 when it won last year. After I drove the EcoDiesel I felt completely justified in making the 1500 a back-to-back winner.
"This is the best Cherokee yet. Hugs the road like a car and slings mud like a true truck. Really an awesome on and off-road utility that fully lives up to the Cherokee name."
MotorWeek has judged the best new cars and trucks of the year for the past 33 years. Its annual Drivers' Choice Awards looks at vehicles from a buyer's point of view, judging on value and reliability, while also taking the latest trends and innovation into consideration. The episode featuring award winners is scheduled to air starting February 8th on PBS; and, on Discovery's Velocity Network, on February 18th.
———————————————————————-
Posted on February 7th, 2014 • by David Zatz
Chrysler has announced a voluntary recall to install a new pedal stop in around 9,655 Ram ProMaster vans, which can prevent the gas pedal from sticking in the wide-open position if force is applied to it an angle. While every Chrysler vehicle, including ProMaster, has a brake throttle override system, drivers have sometimes failed to apply the brakes when the throttle stuck in other cars.
Chrysler Group is unaware of any associated collisions or complaints; the problem was discovered at a Chrysler facility. A new 3 inch stop, created within days, does not bind; it is a  more robust design that improves pedal feel at wide-open throttle.
The new part and discovery were shared with Fiat, whose Ducato is similar in many ways to ProMaster. Fiathas reported no incidents of pedal sticking in its Ducato, launched in 2006, but the vehicles have many design differences.