———————————————————————-
Mark Phelan: European woes hurt Chrysler pipeline
 February
 The 2014 Jeep Compass Limited. Keeping aging models like the 200 and Jeep Compass on the market will hurt Chrysler, Mark Phelan writes.  /  AJ Mueller/Chrysler
By Mark Phelan
Free Press Auto Critic
The 2013 Chrysler 200. The intended replacement has been shoved back to 2014.  /  Bill Delaney/Chrysler
Inside the 2013 Chrysler 200. Chrysler sold almost 8,900 of the sedans during January, a 21% increase over a year earlier.  /  Chrysler
Make no mistake about this: Chrysler would not exist today without Fiat. Chrysler owes its existence to the technology, talent, charisma and cash Fiat provided during the Great Recession.
(The bottom line is this, Mark Phelan is correct.  CERBERUS stripped Chrysler by throwing away the Chrysler Engineering Library and firing 65% of Chrysler's total staff. This made certain Chrysler could not survive on its own and would have to be taken over by GM.  Trouble was GM changed their mind leaving CERBERUS stuck with an auto company they had knowingly crippled beyond repair as a self-sustaining entity.  Fiat was the only company willing to step in and pick up the pieces with an influx of needed people and product.  This was on the condition that CERBERUS got nothing and Fiat could basically just take over Chrysler by funding it's retirees medical costs in share increments.  Chrysler will survive this delay because of less competition from GM which is being run into the ground by their CEO Akerson.  But as soon as Fiat buys all of the healthcare VEBA shares, Fiat will then have access to Chrysler's pile of cash.  I hope Chrysler gets it's share of money because they are supplying all of Fiats profits and one does not want to kill the goose that lays the golden eggs.–Ed Meyer)
But last week, Chrysler-Fiat CEO Sergio Marchionne had to admit the ambitious new-model plan he laid out in 2009 for Chrysler, Dodge, Jeep, Ram and SRT will suffer as Europe's debt crisis hammers Fiat.
Suffer is a relative term, of course. Neither Chrysler nor any of the vehicles it will introduce over the next five years would exist if not for Fiat, but Chrysler was going to get more cars, crossovers and trucks faster before the European debt crisis gutted Fiat's new-model plan.
This is a blow to Chrysler. The automaker has already proven more resilient than I expected, but keeping aging models like the 200 and Jeep Compass on the market will hurt.
The fast rollout of a brace of new vehicles might have reshaped the brands' images. Instead, Chrysler can hope for a brief buzz from introducing fewer new cars and trucks over a longer period than it wanted. Not the best way to build momentum and boost the profile of an automaker that's fallen off many buyers' shopping lists.
Unlike the ugly reign of DaimlerChrysler, this is not a case of foreign bosses who undervalue or actively undermine Chrysler. Fiat is committed to its American business. Chrysler has access to its best and brightest management and engineering, two considerable assets.
The problem is that Fiat is struggling desperately as European sales hit 30-year lows. The deterioration of Europe's market has been worse than even the smartest and best-informed foresaw. Marchionne scoffed last summer when I asked whether Fiat's problems could delay the new Chrysler vehicles.
That was then. This is now. Here are the ex-new Chryslers:
• A pair of small cars the Chrysler brand expected this year has been axed.
• Two small Dodges due this year have also been eliminated.
• The replacement for the Chrysler 200 sedan intended for 2013 has been shoved back to 2014.
• The small crossover Fiat was going to build for Jeep is delayed a year, to 2014.
• A small commercial van for Ram promised for 2012 slips to 2014. Ram promises two more new models in 2016.
• The replacements expected for the Chrysler and Dodge minivans have been pushed back from an expected 2014 until 2015. Another Dodge and two new Chryslers should debut in 2015 and '16.
• The Jeep Grand Wagoneer luxury SUV expected next year slips to 2015. Another new model, maybe the Patriot replacement, is due then, with two more in 2016.
In all, Chrysler Group promises 12 new vehicles in 2015 and '16. The Fiat and Alfa Romeo brands plan another dozen new vehicles in 2015 and '16, after — you guessed it — minimal action between then and now.
"A lot can change between now and 2016, and nobody's predicting Europe's going to get better anytime soon," Dave Sullivan of consultant AutoPacific said.
So what can we expect from Chrysler Group this year? The cupboard's not quite bare. The replacement for the Jeep Liberty — possibly in line to resurrect the hallowed Cherokee name — arrives this spring. The Jeep Grand Cherokee gets welcome new features, including a powerful and fuel-efficient V6 diesel and an eight-speed automatic transmission. Ram will add a couple of UPS-style large commercial vans while Fiat adds the 500L crossover.
Still, Chrysler dealers must go from expecting a flood of new vehicles timed to cash in on the sales recovery this year to hoping this product plan survives longer than the last one.
Contact: Mark Phelan at 313-222-6731 or at mmphelan@freepress.com.
———————————————————————-
Jeep rises, Lancia falls in EU
Posted on  February 3rd, 2013 • by David Zatz
With Chrysler
and Lancia merged into a single unit in Europe, it is impossible to tell what "true Chrysler" sales are; but the two brands together sold 93,264 cars and minivans over the year, down from 103,157 in 2011. The biggest Lancia sellers are the Ypsilon and Delta, with Thema, Voyager, and Flavia occupying a minor role. Fiat Freemont most likely outsold all the Chrysler-based Lancias combined, with room to spare.
Jeep had a decent year given the rough European economy; the brand was now handled entirely by Fiat, and most likely enjoyed some additional success by its now established separation from Daimler distribution. Europeans bought 28,263 Jeeps for 2012, a small number but much higher than the 23,742 sold in 2011. Overall, Jeep has a 0.2% share in Europe, putting it on par with Lexus and Jaguar. Chrysler, Lancia, and Jeep together had a lower market share than Jaguar Land Rover, Seat, Dacia, Chevrolet, or Mini alone. The upcoming B-Jeep, gas-mileage improvements for Grand Cherokee, and the upcoming Liberty/Cherokee should bolster Jeep's position for 2013-14.
———————————————————————-
January from a Chrysler perspective
Posted on  February 3rd, 2013 • by Bill Cawthon
Chrysler
Group sale rose again in January, though this time, instead of leading the pack, Chrysler was in the middle of the Detroit 3 automakers, thanks to a 21.3% surge in Ford sales for the month. Toyota's gain was even larger, at 26.6%. Chrysler's 16.4% gain easily outdistanced Honda's 12.8% and it kept Chrysler with a firm grip on fourth place among the major automakers. General Motors sales were up 15.9% as it maintained the top spot.
Toyota is pushing hard on Ford for second place. At the end of the month, the top Japanese automaker was just 8,138 sales behind the blue oval.
With double-digit improvements from all three companies, the Detroit share of the market rose in January, hitting 45.8% of total light vehicle sales.
Passenger cars were the growth drivers for Chrysler in January: Car sales accounted for 36.8% of all Chrysler group sales, down from December's 42.3% but well ahead of the 28.5% from last January. The Dodge Avenger rocketed from 51st to 28th in the overall rankings and was one of the top 20 car models.
Dodge was the hot division in January. In addition to the Avenger's success, the Journey posted a 93.5% leap, jumping from 66th in the standings a year ago to 38th last month. The Dart continues to outsell its fellow newbies from 2012 and was among the top 20% of light vehicles by sales in January.
While it had the big winners, Dodge also had the big loser in January: the Dodge Grand Caravan. After a big December, Caravan sales went right off a cliff, falling 64.9% in a month. Even compared to last January, sales were down 38.7% as the Caravan finished a record-low fifth in the minivan segment, behind the Toyota Sienna, Honda Odyssey, Chrysler Town & Country and the new Mazda CX-5.
Chrysler continues to be the best-selling American upscale brand and the 300
remains the top premium sedan from the Detroit automakers. With General Motors planning to move Buick upscale, it would be nice to see the folks in Auburn Hills build and expand on what they have.
Jeep's stumble was entirely due to the retirement of the Liberty. Factoring out the Liberty, Jeep brand sales would have been in the black by 13.7% led by 30-plus-percent advances in sales of the Belvidere duo, the Compass and Patriot. Grand Cherokee sales were soft in January, but the same was true in January 2012 when the Grand Cherokee ended the month in the red.
Fiat continues to be a credible player in the small car market, again beating the Mini Cooper's car models, Toyota's Scion Line and the Mazda2. The new 500L looks good and should be a major boost for Fiat brand sales when it arrives. With a good dealer base in place, the L should be spared some of the growing pains the Cinquecento experienced during its introduction to the U.S. market.
The Ram pickup's drop from eighth to ninth in the rankings was due to a 75.2% surge in sales of the Honda Accord, which went from 16th to fourth in the standings. Other small drops, such as the Grand Cherokee's four-spot decline, were also driven by a lot of changes in the pecking order, especially at the top.
Chrysler Group January U.S. Sales, by Volume
Rank 2013
Rank 2012
Brand & Model
Jan-13
Jan-12
change
9
8
Ram pickup
20,474
17,909
14.3%
25
21
Jeep Grand Cherokee
11,065
10,683
3.6%
28
51
Dodge Avenger
9,628
5,697
69.0%
33
33
Jeep Wrangler
8,854
7,896
12.1%
34
37
Chrysler 200
8,846
7,007
26.2%
38
66
Dodge Journey
8,179
4,226
93.5%
46
274 (tie)
Dodge Dart
7,154
0
N/A
52
53
Chrysler Town & Country
6,525
5,637
15.8%
53
54
Dodge Charger
6,411
5,537
15.8%
59
59
Chrysler 300
5,325
4,960
7.4%
60
73
Jeep Patriot
5,248
3,966
15.8%
64
31
Dodge Grand Caravan
4,965
8,094
-38.7%
81
100
Dodge Challenger
3,497
2,551
37.1%
84
88
Dodge Durango
3,380
3,021
11.9%
89
104
Jeep Compass
3,116
2,340
33.2%
104
117
Fiat 500
2,503
1,911
31.0%
120
41
Jeep Liberty (Disc.)
2,035
6,825
-70.2%
196
203
Ram Cargo van
513
406
26.4%
260 (tie)
143
Dodge Caliber (Disc.)
13
1,149
-98.9%
271 (tie)
142
Dodge Nitro (Disc.)
0
1,159
-100.0%
271 (tie)
260 (tie)
Dodge Viper (Disc,)
0
20
-100.0%
271 (tie)
225
Ram Dakota (Disc)
0
155
-100.0%
Chart © 2013 Allpar LLC. Data source: Manufacturer reported sales.
———————————————————————-
Ford, GM seeking app ideas that enhance driving
Automakers invite developers' ideas
February 3, 2013
 General Motors will introduce a flexible application framework on a variety of 2014 models that allows customers to add apps.  /  Steve Fecht for General Motors
By Nathan Bomey
Detroit General Motors and Ford took a page out of Apple's book, or smartphone, when at the past month's Consumer Electronics Show they invited outside software developers to create applications for their vehicles.
How this generates revenue is not yet clear. For Apple, third-party apps are a significant source of profits.
The consumer electronics giant keeps 30% of app sales and gives 70% back to developers. Apple has booked $5 billion in revenue since launching the App Store in 2008.
General Motors North America President Mark Reuss said in an interview that the automaker would be willing to share revenue with app makers.
"Yeah, for sure," he said. "There's got to be a reason why they would want to do it. We're in it to satisfy the customer first and make money while we try to do it."
The decision by GM and Ford to ask app makers to help was symbolically significant because it recognized vehicles can be better with the help of software that will be more creative if done by independent developers.
"We're a car company, we're not an app company," Reuss said.
Automakers must strike a delicate balance by offering interesting apps while avoiding the sensory overload that troubles safety advocates and distracted-driving watchdogs.
GM signaled a willingness to consider apps like iHeartRadio's streaming application or the Weather Channel, while Ford is already offering apps like Glympse, which shares a person's location, and the on-demand music service Rhapsody.
Safety comes first
Carmakers need to avoid the temptation to turn the car into a "smartphone on wheels," said Thilo Koslowski of technology research firm Gartner.
Koslowski said the auto industry should focus on encouraging the development of apps that "enhance the driving experience."
"This is not going to be an app store like Apple has," he said. "Having Facebook in the car, having Twitter capabilities in the car, isn't really all that useful."
Connected millennials
Auto industry executives view connectivity as essential for reaching millennials — those born between 1980 and 2000 — who see their smartphones as crucial to their lifestyle.
In a McKinsey study released last month, 83% of 18-to-39-year-olds said they would be willing to pay for in-car access to the Internet.
Of all drivers, 35% use their smartphones while driving, the study found. Within that group, 68% use their phones for navigation, 39% for text-messaging and 31% access the Internet, social networks, e-mail or apps.
"The car presents an all-new opportunity for developers, especially the millennial market, and we're looking forward to seeing what results," said Hau Thai-Tang, Ford vice president of engineering and global product development.
But Koslowski said carmakers shouldn't confuse a desire for digital connectivity with a desire for car-based apps.
"There's one huge competitor to any automotive company trying to attract apps in the car and that's the smartphone," he said.
GM and Ford have provided the technical specifications to developers to make apps that can work in a vehicle. Once apps start rolling in, they'll examine the offerings closely to decide whether to offer them.
Apple similarly signs off on outside apps before enabling them to be downloaded to the iPhone, iPad or iPod.
Virtual mechanic
GM said it would welcome a wide range of ideas, but it's particularly interested in apps that deliver information about the vehicle to the driver. For example, an app could analyze vehicle performance to deliver recommendations on how to maximize the vehicle's fuel economy
through an optimal route.
The apps would be delivered through existing infotainment systems such as Chrysler's
Uconnect, the Cadillac User Experience or MyFord Touch.
"I want to find the next parking spot while I'm driving into the city, I want to get the latest map updates — those kinds of things consumers are looking for," Koslowski said.
The number of ideas offered will depend on how much automakers are willing to pay. Their biggest challenge is the mathematical fact that smartphones outnumber cars worldwide by 169.2 million to 80 million, according to 2012 data compiled by Gartner. Only a small fraction of those 80 million cars and trucks are new enough to offer touch-screen
technology.
Another unanswered question is: Will consumers pay for apps in the car?
"The scale that an automobile manufacturer has will never be as attractive as what some of these smartphone platforms have," Koslowski said.
Nonetheless, app development presents automakers an opportunity to differentiate themselves from their competitors.
Right now, most vehicles with an infotainment system have just a few applications, such as navigation, weather data or perhaps online music streaming.
The more automakers focus on informing drivers about the condition and performance of the car, the more successful the software will be, Koslowski said.
For example, applications can act like constant car mechanics.
"Remote diagnostics will be a given in the future," he said. "Every vehicle that has connectivity will tell you if a part needs to be replaced."
Contact Nathan Bomey: 313-223-4743 or nbomey@freepress.com
———————————————————————-
Hagerty Insurance releases annual list of future classic car predictions
February 3, 2013  |
Hagerty Insurance says the Ford Focus ST will be among cars coveted 20 years from now.  /  Ford
Detroit Free Press Staff and News Services
After the recent unveilings of new vehicles at the North American International Auto Show, Hagerty Insurance, the Traverse City-based insurer of classic automobiles, has released its annual list of future classics — cars that collectors will covet 20 years from now.
The rule is that those selected must be a mass-produced vehicle available for sale as a 2013 model with an MSRP of less than $100,000. Special consideration was given to newly launched versions not appearing on previous Hagerty Hot Lists.
Here they are, with starting prices:
• SRT Viper ($97,395)
• Chevrolet Corvette Convertible 427 ($75,925)
• Audi RS5 ($68,900)
• Porsche Cayman S ($63,800)
• Chevrolet Camaro ZL1 Convertible ($59,545)
• Tesla Model S ($58,570)
• Mini John Cooper Works GP ($39,950)
• Subaru BRZ ($25,495) • Ford Focus ST ($23,700)
Siri to speak in Hondas
Apple's Siri voice-command system is going to be doing the talking in Hondas.
Honda says that the intelligent assistant on Apple iPhone 4S and 5 smartphones is going to be part of its 2013 Accord and Acura ILX and RDX. General Motors announced recently that Siri is coming to Chevrolet. Honda will use it in what it calls "Eyes Free" mode, designed so drivers don't have to look down at their infotainment units to use Siri.
"iPhone has become so integral to people's lives that they continue to use them in their vehicles," said Vicki Poponi, assistant vice president of automobile product planning for Honda's U.S. unit, in a statement.
On iPhones, a user pushes a button, then can perform many functions with voice commands — such as getting directions. The latest deal shows Honda is being aggressive about bringing the feature to cars.
———————————————————————-
Revved up what's hot and what's not in autos
 February 3, 2013
Revved: Profit-sharing checks given to UAW members at Ford ($8,300) and Chrysler
($2,250). GM workers will be looking for a nice payment.
Revved: January auto sales climb for automakers. Good start for the new year.
Stalled: One of Lincoln's Super Bowl ads already is panned. Will it look better when surrounded by football?
———————————————————————-
February 3, 2013 at 1:00 am
Ways to make driving easier, safer born at BMW idea factory
By Dan Nakaso
San Jose Mercury News
Engineer Klaus Heller plugs in an ActiveE electric 1-series coupe at BMW's  research lab, the Group Technology Office, in Mountain View, California.  (Gary  Reyes/San Jose Mercury News/MCT)
Those iPod and iPhone adapters that are now standard equipment in nearly  every modern car were born out of a "what if" idea by BMW engineers in Silicon  Valley in 2003.
Then in 2007 they teamed with another Silicon Valley giant, Google, to send  information from drivers' computers to their cars' navigation
  systems, eliminating the need for drivers to program their cars with driving  directions they had already looked up at home or in the office.
The experience of drivers, whether in the cockpit during an emergency, or at  home letting a computer decide the best time to recharge an electrical vehicle,  remains the focus of engineers at the automobile think tank officially known as  the BMW Group Technology
  Office USA.
Today, every major car manufacturer has followed BMW in setting up its own  research-and-development offices in the heart of Silicon Valley to soak up ideas  and partner with big and small tech companies to develop innovations that will  make driving safer or just more fun.
In March, Ford Motor Co. became the latest carmaker to open its Silicon  Valley research office, in Palo Alto. But Dirk Rossberg, a German who runs the  BMW Group Technology Office USA, is quick to point out that BMW started it  all.
"Daimler is here. Honda is here, Toyota is here, Nissan, Peugeot, GM, Ford —  all the companies," he said. "But we were the first."
Rossberg and his staff are stingy about revealing details about the really  cool stuff they're working on. They wouldn't even allow this newspaper a glimpse  of the open-space workroom that takes up the entire second story of their  13,000-square-foot idea factory, which is tightly controlled by locked  doors.
But the few ideas they would share offer the promise to make driving safer,  more convenient and, for electric vehicle owners, cheaper.
For instance they continue to rewrite algorithms to fine-tune existing  vehicle-sensing technology that could let drivers know when a pedestrian is  crossing in front, or notify the driver when a vehicle ahead suddenly brakes  hard.
"The driver is always in control, of course," Rossberg said. "But the car  will tell you that something's going on ahead and might even start braking."
And engineers are looking at ways to funnel all of the data collected on  every Internet user so their vehicles will make suggestions on where to stop or  even shop.
"Say you're driving from Los Angeles to San Francisco and your car knows that  you normally take a coffee break every three hours," Rossberg said. "You just  passed a nice coffee place that's five stars on Yelp and there won't be another  coffee stop for 50 miles. So it will recommend stopping here. Or your car knows  that you've been looking on the Internet for television sets but your credit  card says you haven't bought one yet. So it may point out a store with the  cheapest price. This is part of the future."
BMW's engineers in Mountain View also continue to retool existing speech  recognition and "gesture recognition" software and hardware that will let  drivers fiddle with their audio, phone and navigational gadgets more  efficiently
  and, hopefully, safer.
And they're looking at electrical vehicles from at least two different  perspectives.
One team of engineers is writing code for a smart home system that can be  programmed to charge an EV only when there's little energy demand on the home  grid, such as the middle of the night when most lights and appliances are  off.
Another group is looking at how to reuse old EV batteries once they've  outlived the rest of the vehicle.
BMW's Mountain View engineers built a shed in the employee parking lot that  houses dozens of old EV batteries that store energy from a solar panel array.  The 30 kilowatts of stored energy reduce BMW's peak demand on the Peninsula  power grid while saving hundreds of dollars every month on the building's energy  bill, said Pete Dempster, one of BMW's sustainable mobility engineers.
The EV batteries in the shed also contain enough power during a blackout to  run "emergency lights and critical devices for a couple of days," said Klaus  Heller, BMW's senior advanced technology engineer in Mountain View.
Eventually, the BMW engineers hope to develop techniques and systems that  will allow everyday EV drivers to lower their home energy bills while lessening  their demands on the power grid, which will help everyone.
"We're not just looking at lower energy costs," Dempster said, "but other  things that will benefit society."
BMW opened its original Palo Alto office in November 1998 with a handful of  engineers and the rough idea that it needed to establish a beachhead in the  birthplace of tech ideas.
After moving to a larger, two-story office building, garage and workshop in  Mountain View in March 2011, the staff has since grown to 30 people who follow a  freethinking, free-flowing work ethic that's more like a Silicon Valley startup  than BMW's massive, 10,000-employee research-and-development operation back at  headquarters in Germany, Rossberg said.
BMW's Silicon Valley-based engineers come and go at all hours of the day and  night. The parking lot includes a barbecue and a basketball hoop for engineers  to blow off stress or simply noodle on an idea.
"The culture in this office is unlike Munich," Rossberg said. "We have very  flexible work schedules and very flexible thinking. If you figure out that a  topic is not working, we shut it down and move on very fast. It's a huge  advantage."
———————————————————————-
M&A outlook for global auto industry weakens, survey says
U.S., China, and Germany still offer opportunities
Vince Bond Jr. Automotive News — February 3, 2013 – 10:31 am ET
Due to a lack of confidence in the global business environment, the percentage of automotive companies planning to pursue acquisitions within a year fell to 19 percent, according to an Ernst & Young survey.
That's the lowest point in the Capital Confidence Barometer's two-and-a-half-year history after dropping 20 percentage points from the year before.
Auto companies still expecting to make moves are treading more cautiously, or looking to complete "smaller, less transformative deals" in an uncertain climate, according to the survey, whose results released last month were largely based on responses from supplier executives.
Some of the leading factors behind the uncertainty include "credit markets that aren't particularly strong" in Europe and the U.S. along with the looming fiscal cliff in the U.S when the survey was taken last August and September, said Jim Carter, Americas Automotive Industry Leader for Transaction Advisory Services at Ernst & Young.
"That level of desire to complete an acquisition is lower than I would have expected," Carter said in an interview last month. "There is still tightness in the liquidity in the equity and debt markets in automotive. I think that is likely impacting desire to do M&A."
A panel of more than 1,500 executives, including 188 in the automotive sector, from companies in 41 countries were surveyed last August and September. Approximately 754 of them held CEO, CFO or other C-level positions.
Carter said the automotive results were a "cyclical response" to what was happening at the time, so he expects M&A activity to become more enticing for companies going forward with encouraging signs coming from the Chinese, German and the U.S. markets.
Retail M&A
Not all segments of the auto industry have shown such a bearish outlook on global acquisitions.
Last month, Houston-based retailer Group 1 Automotive Inc. announced plans to acquire one of Brazil's largest auto dealership groups.
The dealerships — 21 franchises representing eight brands in Sao Paulo and markets in the neighboring state of Parana — are expected to generate approximately $650 million in estimated annual revenues, Group 1 said.
The purchase price includes approximately $47.4 million in cash, 1.45 million shares of Group 1 common stock priced at $60.77 a share, and the assumption of about $62 million of debt. Analysts said more dealer acquisitions could be expected.
"We are now bullish on the acquisitions outlook, driven by a more stable political and economic environment and supported by recent activity in the industry," Brett Hoselton, a KeyBanc analyst in Cleveland, wrote in a Jan. 22 report.
The strong auto markets in the United States and China may also yield M&A activity in the coming months.
Automakers moved 14.49 million light vehicles in the U.S. in 2012, the most since 2007, and sales of passenger and commercial vehicles in China are expected to rise 8 percent in 2013 to 21 million — up from 19.4 million last year, according to General Motors.
"We do expect more M&A in the future. I don't think the negative trend that exists currently is necessarily indicative of the future trend," Carter said. "Germany has been performing well; the U.S. market has performed well; China has performed well. If that trend continues, you'll see more companies with broader appetites to do M&A."
Tough global climate
But according to the survey, economic malaise in Europe impacted business for 90 percent of respondents.
With the ongoing Eurozone crisis and slowed growth in emerging markets, more than 60 percent of auto executives expect the global economic downturn to continue for another one or two years.
The report says many companies will focus on bottom line improvements in this environment.
Ernst & Young cited emergency financial maneuvers by the U.S. Federal Reserve and the European Central Bank as key moments that show urgency among policymakers.
"The willingness to do M&A has been impacted. Some companies' growth plans in terms of where they want to invest their capital globally has been impacted by the Eurozone crisis. It certainly has impacted confidence around the sector," Carter said.
But things aren't all bad in Europe.
Germany was considered the top automotive sector investment destination among respondents.
Carter said Germany is a desired market because it's an engineering and technology-focused country that's home to leading OEM's such as Audi, Mercedes-Benz, BMW and Volkswagen.
"That makes it attractive in terms of suppliers wanting to invest in Germany to get access to their customers," Carter said. "Those OEMs that exist in those markets are attractive to our domestic suppliers and other global suppliers."
Philip Nussel, David Phillips and Bloomberg contributed to this report.
You can reach Vince Bond Jr. at vbond@crain.com.
Read more: http://www.autonews.com/article/20130203/GLOBAL/130209962#ixzz2JsimshQT
Follow us: @Automotive_News on Twitter | AutoNews on Facebook
———————————————————————-
(This is what happens when there are no US companies left to create and grow.  We start taking amature sports way too seriously and end up turning them into semi-pro and almost pro sports where everyone makes big bucks except the athletes themselves.  It's time for the NFL to develope a farm system so colleges can go back to student-athletes in football as in other sports.–Ed Meyer)
Get ready.  They're coming.  From one side of the continent to the other.
With the Big XII conference holding a get-together of its athletic directors today and tomorrow, conference expansion/realignment rumors will be back on the menu and they'll be served up fast and furious all week long.
"It is very much an academic and philosophical discussion.  We have no plans in the immediate future for any change in composition, but we think it's wise and prudent to consider all the positive aspects of our current formation as well as whatever negative effects there may be.  It also is a good time to talk about the positives of adding a new member or two members of six members.
We don't have any plans to expand, but on the other hand, we don't want to be caught off guard either.  I think there's a proactive approach we can undertake and also a reactive and responsive approach.  We're going to flesh out both of those."
Days earlier, even Texas AD DeLoss Dodds — an anti-expansion hardliner — admitted "there may be some talk of 12″ inside the 10-school Big XII.
Twelve, schmelve seems to be the message of Ohio State president Gordon Gee.  He piped up late last week to say that the Big Ten is still talking expansion and that he "believes there is movement towards three or four super-conferences that are made up of 16 to 20 teams."
We've written for a while that we believe the push for a new super-division of the biggest, richest football schools in the country will come to a head soon.  Very soon.  As in the next three or four years soon.  We suspect four or five conferences will survive in the Big Boy Zone and we've not been shy about stating that there's no reason for anyone to believe that we'll be left with four nice, neat 16-team power conferences.  Expansion/realignment is 95% about television revenue and that means content to sell.  Some league(s) will realize that having more schools means having more games to sell which in turn will mean more cash.  Gee's "16 to 20″ comment didn't catch us off guard (and if you read
this
,
this
,
this
, and
this
it didn't catch you off guard either).
So what's all this hubbub mean for the SEC?  Here are some best-case scenarios:
1.  Everyone takes a deep breath, taps the brakes on the Expansion Express, and waits to see how things play out in the new playoff world.
Uh, yeah, that ain't happening.  It should happen because no one knows how all these rushed decisions will play out long-term, but there's money on the floor and several league commissioners will be diving on the ground to grab every last nickle of it.
Unfortunate.
Unwise.
2.  Several leagues strike up out-of-conference scheduling deals and delay further expansion.
We wrote months ago that if the SEC wanted to help save the ACC and keep the status quo intact for just a bit longer, Mike Slive and company
could line-up an annual "SEC vs. ACC Football Challenge."
That idea still makes sense.  In fact, Bowlsby admitted last week that he's had conversations with the ACC's John Swofford and two other conference commissioners regarding just such a scheduling arrangement, though he suggested a broader marketing push, a basketball deal, and even a television agreement could be part of those talks.  "It's purely exploratory" he said, adding that a two-league deal "would provide some of the benefits of larger membership without actually adding members."
If multiple conferences could partner up, reach scheduling agreements, and fend off further expansion that'd be swell.  But we don't see that happening either.
We'd bet good money that the ACC's Swofford is the one pushing hardest for some type of scheduling deal with someone, anyone.  His league has the smallest media contract of the five remaining power conferences and his it just saw a founding member (Maryland) opt for a spot in the Big Ten.  But will Bowlsby or Slive be interested in saving the ACC if they want Florida State (Big XII) or North Carolina and Duke (an ACC source told The Sporting News last year that the SEC had been angling for those two schools for several years)?  Probably not.
Most feel the Big XII has also talked about a scheduling alliance with the Pac-12 (Larry Scott's expansion options are limited by geography and time zones) and the Big Ten.  We suspect, however, that Bowlsby and Slive might have had some chats.  The SEC takes a beating for its nonconference scheduling and when we move from the current BCS system to a playoff selection committee — complete with regional biases — any perceived soft scheduling could hurt the league's chances of getting multiple teams into a four-team playoff.
Bowlsby and Slive captain the two most successful ships of the BCS era.  They've just worked out a groundbreaking deal to partner up and split the cash from a new Sugar Bowl that's basically owned by the leagues and run by the folks in New Orleans.  What better way to further consolidate power than to reach a scheduling agreement, especially in football?
We might just have a bit more on this a little later…
3.  If the dominoes start to fall, then the SEC can hopefully grab two appealing schools and stop at 16.
If the league's going to grow — and if fans want to see more than a handful of the SEC's longtime rivalries sustained — then a jump to 16 should be the hope.  There's no question that the SEC would like to put down roots in Virginia and North Carolina.  They're big states with good recruiting.  They open doors to the Raleigh, Charlotte and DC television markets.  Landing in those states would also balance out the league's last two additions (Missouri and Texas A&M).  Plus their are the obligatory millions of cable households to benefit the new SEC Network.
We've heard — and multiple sources back it up — that Slive would love to get his hands on North Carolina and Duke both for basketball purposes and for academic prestige.  Virginia makes sense as well and would certainly please SEC presidents.  Virginia Tech is probably the best fit of the bunch in terms of having an SEC-like culture.  So pair 'em up — UNC and Virginia, UNC and Virginia Tech, UNC and Duke — and you have the best hope for an expanded but not completely rejiggered SEC.
4.  If everyone else veers off the realignment cliff and the SEC gets grabby, then hopefully the league can pull four schools that meet the presidents' goals and hold at 18.
If its last-dance time and everyone starts fighting for partners, then here's hoping the SEC doesn't wind up as a 20-school behemoth.  Granted, such a league would be the equivalent of pairing up a pair of 1980s-sized conferences under one roof (with each league in its own division), but that's a helluva lot of teams.  To reiterate, we think one or more leagues will reach that size just because more content equals more money, but it's still a helluva lot of teams.  There's what we believe is coming and there's what we want to see come.  In this case, they're not the same and that needs to be clear.
Supposing this next round of expansion becomes a full-on landgrab, all bets are off in terms of who lands where.  Seriously, the politics involved make cat-wrangling easier than figuring our who'd end up where in 20-team conferences.  Still, we suspect Virginia will head to Big Ten eventually as we've heard tell of UVA-Jim Delany discussion from SEC sources, industry sources, and even an ACC source.  So we should probably scratch the Cavaliers.
If the SEC refuses to yield on any unwritten rule it might have preventing league expansion into a current SEC state, then the league's options will be limited.  If Virginia and North Carolina are the key states, that means catching Virginia Tech, North Carolina, Duke and any other school that might make those other three schools look more favorably upon an SEC marriage.  Best guess?  NC State, as we've written previously.
Yes, yes, it makes no sense to take three schools from one state.  Why not just add Florida State or Clemson at that point?  Good questions.  But there's been no sign of FSU or Clemson entering the SEC.  So we're calling those options dead for now.  And if the SEC felt NC State could help it lure UNC, Duke and Virginia Tech (giving the league new television markets, millions of new cable subscribers for its soon-to-launch network, and new recruiting ground), then we think the SEC would move on the Wolfpack.  That's just our little four-school theory.  Hopefully the ACC will survive, the SEC and everyone else will be patient, and we'll never know who would have been schools 15, 16, 17 and 18.  But things seem to be moving in the bigger-is-better direction and we believe the league — if faced with a four versus one scenario — would take all four of the above schools including three from one state if it made everyone happier.
In case you haven't figured it out, we don't believe there are too many good scenarios for the Southeastern Conference or college sports moving forward.  The intelligent plan for one and all would be to calm down and do a little research before getting froggy again.  Ribbit, ribbit, that won't happen.  And that means the SEC's best and most realistic options are schools to the east, sandwiched between West Virginia and South Carolina.  North Carolina, Duke, Virginia (if not in the Big Ten), Virginia Tech and NC State are the schools that make the most sense (if the SEC won't reconsider mega-brand Florida State).
Of course, the more expansion/realignment we see… the less sense it all seems to make.
———————————————————————-
U.S. G
un Deaths a Global Embarasement
Every Other Modern Industrialized Nation Has Successfully Regulated Guns
U.S. Gun Deaths Since Sandy Hook Top 1,280
Posted: 02/01/2013  8:21 pm EST  |  Updated: 02/02/2013  9:15 am EST
WASHINGTON — It was Christmas night when
Sincere Smith
, 2, found his father's loaded gun on the living room table of their Conway, S.C., mobile home. It took just a second for Smith's tiny hands to find the trigger and pull. A single bullet ripped into his upper right chest and out his back.
His father, Rondell Smith, said he had turned away to call Sincere's mother, who had left to visit a friend. His back was turned to the toddler, he said, for just that moment.
Sincere was still conscious when his father scooped him up and rushed him to the hospital, just a few minutes away.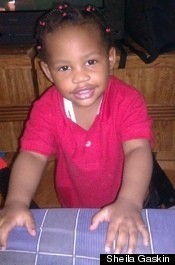 Eleven hours earlier, Sincere Smith had woken up to Christmas — the first that he was old enough to appreciate. His father remembered their last morning well -– his son ripping through wrapping paper, squealing with delight with each new gift — his first bike, a bright toy barn.
It was quite a sight seeing Sincere so happy around a cloud of crinkled wrapping paper. "We bought him a little barn thing," Smith said. "He knew what a barn is. He just seen it -– 'Oh Mommy, Daddy! Barn!' He went crazy over it. … He lit up like a Christmas tree."
Smith, 30, lit up too. "I just wanted to see him open them up," he said. His own parents were teenagers when they had him. He had vowed to be there for his five children, giving up college and a possible basketball career to take care of them. With Sincere, he promised his wife he'd be a hands-on parent. He said he considered Sincere his best friend.
The two kept close that day visiting relatives for more presents and a Christmas dinner of chicken and macaroni and cheese. "Everything was normal," Smith said. "He was happy. Everything was good then."
Two weeks earlier, Smith had bought a .38-caliber handgun to protect his family after bandits had tried to break into their home. He doesn't know what to say about the national gun-control debate. He just wants that lost second back. "I would say, man, keep them out of your house," he offered. "It's just. Boy. All it takes is a second. Just a second to turn your head. I don't know, sir."
Sincere died on an ambulance gurney as he was transferred to a second hospital in Charleston.
He never got to ride his new blue Spiderman bike outside. It sits in the trunk of his grandmother Sheila Gaskin's car. "He didn't get to ride his bike," she explained. "It was cold [on Christmas]. My daughter doesn't want to take it back to the store."
Gaskin lives across the street from her daughter and Smith. She saw Sincere every day of his life. "He hear me coming down the road, my gospel music blasting and he hollering 'Nana!'" she recalled. Now, she said she visits his grave every day. She hasn't gotten a full night's sleep since the accident. "It's just killing me," she said.
After Sincere was shot, Rondell Smith thought about taking his own life, Gaskin said. "It's just not good," she said. "It's not good at all. He just has to stay prayed up. … That's all he can do is give it to God."
Smith wasn't at Sincere's side when he died in the ambulance. He was being interrogated by the police, who eventually charged him with involuntary manslaughter. His next court date is Feb. 8.
As he was rushing Sincere to the hospital, Smith said he told his son that he loved him. "He couldn't really talk," Smith said. "Last thing I heard him say was, 'Daddy.' He kept trying to say 'Daddy.' Believe me I hear it every day."
There were 29 other shooting deaths across the U.S. on Christmas. A soldier was shot and killed in his barracks in Alaska. A man was murdered in the parking lot of Eddie's Bar and Grill in Orrville, Ala. A 23-year-old was shot at a party in Phoenix. A Los Angeles County Sheriff's Department employee was killed in a drive-by.
A 20-year-old Louisville, Ky., man was shot and killed after walking his sister home. On Christmas Eve, he had posted an R.I.P. on his Facebook page for a friend and former classmate, who had been gunned down that day.
A 10-year-old in Memphis, Tenn.,
Alfreddie Gipson
, was accidentally shot to death by gun purchased by an older brother, who had gotten the weapon after being bullied at school. Gipson was jumping on a bed when the gun slipped out of a mattress. It discharged when his 12-year-old brother tried to put it back, their mother said at a vigil.
There were at least 41 homicides or accidental gun deaths on New Year's Eve. On New Year's Day, at least 54 people died from bullet wounds.
Through Google and Nexis searches, The Huffington Post has tracked gun-related homicides and accidents throughout the U.S. since the schoolhouse massacre in Newtown, Conn., on the morning of Dec. 14. There were
more than 100
such deaths the first week after the school shooting. In the first seven weeks after Newtown, there have been more than 1,280 gunshot homicides and accidental deaths. Slate
has counted 1,475
fatal shooting incidents since Newtown, including suicides and police-involved shooting deaths, which The Huffington Post did not include in its tally.
On a Tuesday morning in Baton Rouge, La., police knocked on Alean Thomas' door and told her: "You have a young man dead in your driveway." It was her 19-year-old son. Three days later, a 17-year-old in California was killed
visiting family for his birthday
.
On a Thursday afternoon in New Orleans' Sixth Ward,
Dementrius Adams
was murdered on his way to buy groceries for his mother. He was 28 and had a 5-year-old daughter. "He was a hard-working man," his sister said told a reporter. "He was so proud of his job. … He was a good brother, a good father — he was a loveable man."
Adams had just been promoted from a dishwashing job to cook at a New Orleans restaurant.
The dead included grandmothers and a 6 month old. There were police officers and a Texas prosecutor.  There was a Bodega worker in Queens, N.Y., and a gas station attendant in East Orange, N.J.
"I am lost, hollow," said the mother of
the GED aspirant
gunned down at a Chevron station on New Year's Day.
In Newport News, Va., after a shooting broke out,
a mother ran outside
to protect her two sons, ages 5 and 7. She yelled at one of the gunman and was killed.
There were murder-suicides in Florida, Kentucky, Oregon, Texas and California. Most were men killing women, husbands killing wives, boyfriends killing girlfriends, sons killing mothers.
There were so many drive-bys.
On Jan. 11, in Baltimore, Devon Shields, 26, was found lying in a street with a fatal gunshot wound to the chest. Three hours later, Delroy Davis was found lying face-up between two houses. Two-and-a-half hours later, Baltimore police rushed to a double-shooting that left one man dead with multiple gunshot wounds. The next day, Sean Rhodes was found "lying face-down in a pool of blood,"
according
to the Baltimore City Paper. Two others survived gunshot wounds.
Silly arguments became final arguments. A man was murdered over two broken cigarettes. Another after
getting into a spat
at a taco truck.
Travis Len Massey
, 23, was shot and killed by his sister's boyfriend in a family dispute over a missing gun. A 52-year-old Jacksonville man shot and killed a longtime friend over an argument, according to police. When asked what the argument was about, the gunman said
he didn't remember
, according to a television report.
A 6-year-old accidentally killed a 4-year-old. A different 4-year-old accidentally killed a 58-year old.
Alexander Xavier Shaw
, 18, put a gun to his head to show how safe it was. "Witnesses told officers that Shaw, his uncle, grandparents and some friends were on the back patio talking when he showed them a .38-caliber revolver,"  a St. Petersburg, Fla., newspaper account said. The gun accidentally fired, killing Shaw.
Mark Hanrahan, Melissa Jeltsen, Benjamin Hart, Adam Goldberg, Peter Finocchiaro, Chelsea Kiene and William Wrigley contributed reporting.